The craziest stat-lines for NBA players
The unprecedented suspension of schedules across all major sports due to Covid-19 is an opportunity to remember some of the great – and unexpected – performances of the past.
Over the course of the NBA's history, there have been many eye-catching stat-lines.  Some have been impressive; some jump out as unusual or even abnormal.  Many offer meaningful information that can teach us, as fans, valuable lessons about how unpredictable any certain performance can be.
Muggsy Bogues, the 5-foot 3-inch point guard, weighing in at 136 pounds, was able to grab 10 rebounds for the Charlotte Hornets against the Detroit Pistons on March 25th, 1994. This feat is extremely impressive considering the fact that Bogues totaled the same number of rebounds that night as his teammate, and Hall-of-Fame center, Alonzo Mourning. On top of this, the Hornets won this matchup 106-92.
In a sort of reverse scenario to Bogues' feat, Manute Bol, a 7-foot 7-inch center for the Philadelphia 76ers, pulled off something that shocked the NBA world in a match against the Phoenix Suns on March 3rd, 1993.
Bol wasn't known as a scorer, especially not from the 3-point line, as he only ever attempted 0.3 3-pointers per game for his career. In that game, although the 76ers lost, Bol showed that centers could in fact shoot threes, and provided another key contribution that led to the 3-point shooting centers that we see today.
The Miami Heat, fresh off of a championship, entered the 2013-14 season with more confidence than ever. In a opening night matchup against the 76ers (who would turn out to have a 19-63 record) on October 30, 2013, the Heat looked like they would easily take the win and start off their season on a high note. However, Michael Carter-Williams, the 11th pick in the draft that year, accomplished one of the most impressive stat-lines we have ever seen for a rookie.
Carter-Williams, in his first NBA game ever, scored 22 points, dished out 12 assists, grabbed seven rebounds, and wound up his night with nine steals.  His efforts were enough to give the 76ers the win over the defending champions. However, this wasn't the only dominant rookie performance we've ever seen.
Wilt Chamberlain, in his first season in the NBA, gave the dominant Boston Celtics a run for their money on November 24, 1960. The Celtics were defending champions, and the eventual champions of the 1960 season.  Their roster featured seven Hall-of-Famers including Bill Russell and Bob Cousy.  Against that extraordinary talent, arguably the most dominant team of all time, Chamberlain scored 34 points and grabbed 55 rebounds against. The Celtics would win the game, but only by three points, as Chamberlain sent a message that he was destined to become one of Bill Russell's biggest challenges.
Another monster stat-line put up by a young player occurred on November 20, 1993, a night when Shaquille O'Neal of the Orlando Magic dominated the New Jersey Nets. O'Neal scored 24 points, grabbed 28 rebounds, and totalled 15 blocks. Although the league knew that O'Neal was going to be a problem, I don't think a second-year player should ever be capable of dominating the best players in the world like that. The Magic would win the close game by a score of 87-85 due to the absurd performance of O'Neal.
Now that we've seen the many impressive stat-lines, there is one that stands in a category of its own as one of the most random and confusing stat-lines ever. On January 6, 2005, the Detroit Pistons played the Memphis Grizzlies in a regular season matchup.
Richard Hamilton, a 40% or more shooter for his entire career, would have the weirdest performance in recent history. Hamilton would take ten shots, and miss every single one of them. Despite this, Hamilton was able to score 14 points, shooting 100% from the free-throw line. The Pistons lost this matchup, but Hamilton's performance showed that even if you have an off-game, you can still make yourself useful.
The last, and most meaningful stat-line in history occurred only two years ago in a matchup between the Houston Rockets and the Los Angeles Lakers. Andre Ingram, a 32-year-old part-time math tutor and undrafted player who spent 11 years in the NBA's G-League, was finally given the chance to play in an official NBA game for the Lakers. At the time of the game on April 10, 2018, nobody expected Ingram to shine, as he averaged only 10 points for his career in the G-League. However, on that night, Ingram made his mark, scoring 19 points, shooting 6-8 from the field and 4-5 from the 3-point line.
After tha game, the late Laker legend Kobe Bryant gave Ingram full credit.
"That's unbelievable. It's a testament to his commitment, to his unwavering drive to realize his dream.And then to get there, to get that opportunity, to not shy away from the moment, that's a wonderful story."
Even though the Lakers lost, Ingram showed that anything is possible, and for at least one night, demonstrated to the NBA world just how talented he was.
About the Contributor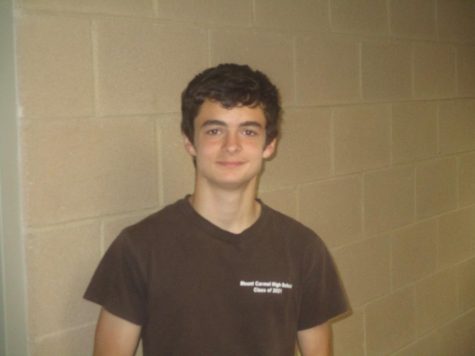 Joseph Williams-Tubay, Staff writer
Joseph Williams-Tubay was born in Chicago, Illinois, and attended Saint Benedict Preparatory School. He now attends Mount Carmel High School as a junior....