A young person's review on the "Last Dance" documentary
Personally, I never have been the biggest fan of Michael Jordan.
I have heard many stories about him that make me question who Michael Jordan really was. However, with the release of the ESPN documentary titled, "The Last Dance," I felt like this was a perfect opportunity to really learn about Jordan as a player and forget about him as a person, and learn about his teammates as well.
After watching the first episode, it wasn't too different from other documentaries I've watched such as ESPN's 30 for 30s. However, through the subsequent episodes, I got to see something I hadn't noticed before about Jordan: off the court, Jordan was a goofball, but when it became game time, it seemed like he flipped a switch mentally, preventing him from ever losing focus.
I also learned in the first episode how he became the leader of the Bulls, despite being a rookie, and did so without even speaking. He learned that his teammates weren't going to a rookie, so he would have to prove his skill to them.
In a later episode that I watched about Dennis Rodman, I learned a lot about how the Bulls team functioned once Scottie Pippen was in the picture. It was Michael and Scottie, that's it. What I mean by this, is that Pippen was hurt for the beginning of the season. This gave Jordan no other option than to make Rodman his right-hand man for the time being, but once Pippen recovered, Jordan would barely talk to Rodman.
I also learned more about the bad-boy Detroit Pistons, who bullied Jordan physically to beat the Bulls. This made me gain more respect for Jordan, because the Pistons knew they couldn't compete with Jordan unless they threw in cheap-shots.
In the end, however, my impression of Jordan did not change very much. He is one of the two greatest players to ever play the sport of basketball. He dominated the '90s with his athletic play and would not accept loss. However, I do believe that many players in today's game would've given Jordan a much harder challenge, including Kevin Durant, a 7-foot freak of nature who can dominate every aspect of the game of basketball.
What I mean by this is that many people tend to believe that today's talent wouldn't survive in the '90s, but a 6-foot-9 LeBron James, who is 250 pounds of pure muscle would easily run through anyone in his way.
About the Writer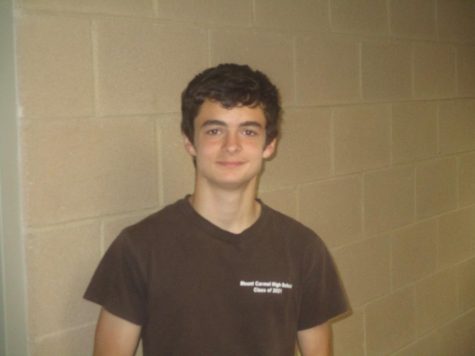 Joseph Williams-Tubay, Staff writer
Joseph Williams-Tubay was born in Chicago, Illinois, and attended Saint Benedict Preparatory School. He now attends Mount Carmel High School as a junior....