Previewing the IHSA class 7A football playoffs
The most popular state tournament in Illinois high school sports is back after a two-year wait. 
The excitement of a playoff that is win or go home every week is undeniable, and the nature of the playoffs means two-hundred and fifty-six teams across the state will have the shot at a state title, with a Week 10 playoff game. And although only eight teams will be crowned State Champion, every playoff team will have fans rooting for it and general excitement around the school in the week leading up to each round of playoffs.
Football is the most popular high school sport in the state, and the largest one with eight classes. Each class bracket has thirty-two teams and while classes 1A-6A are divided into a north and south half, 7A and 8A are not. As most large schools are in the northern half of the state, it makes more sense to have the two largest classes seeded without schools' geographical locations in mind. The main reason that there is a north and south half in the smaller classes is to avoid teams having to travel from opposite ends of the state to meet each other. 
The teams are seeded from first through thirty-second based on records and opponent wins. The first seeding criteria is a given team's record, with at least five wins required to make the playoffs. The second is opponent wins, so playing against tough opponents is rewarded.
This year, one of the most interesting and exciting brackets is class 7A, which has several teams that are good enough to go the distance, and many of them will meet in early rounds. Here is the full bracket.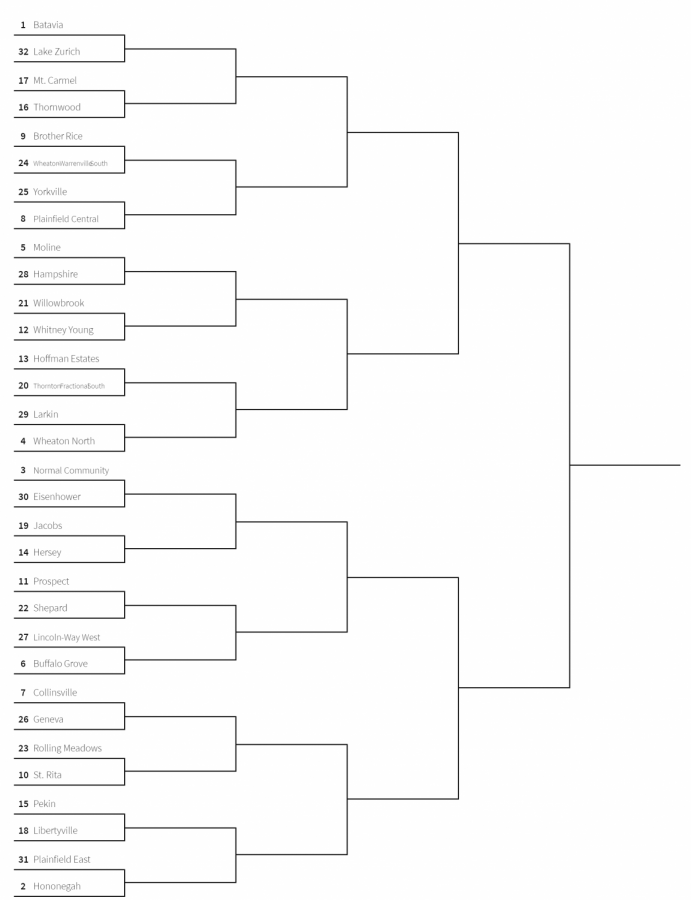 Three teams went undefeated in class 7A, earning seeds 1-3. They are Batavia, Hononegah, and Normal, respectively. There are five teams with one loss, Wheaton North, Moline, Buffalo Grove, Collinsville, and Plainfield Central, and they earned the 5-8 seeds respectively.
Batavia, for a number one seed, got a very tough draw. While they have a 5-4 Lake Zurich team first round, Lake Zurich usually lost very close, with the exception of reigning 8A runner-up, Warren. However, after the first round there is potential for a very tough couple games for Batavia. In rounds two and three of playoffs loom potential matchups with Chicago Catholic League Blue powerhouses in Mount Carmel and Brother Rice. Brother Rice and Mount Carmel would both have to upset teams seeded one seed higher than themselves, but the level of competition that the Catholic league offers mean that it is a very real possibility. 
Thornwood plays in a fairly weak conference and lost twice by a very wide margin, giving up 78 points in a loss to Crete-Monee. Plainfield Central has conference rival Yorkville, and despite their records and seeding points, the two teams should be fairly evenly matched, as Yorkville plays in a tougher division than Plainfield East, having the most opponent wins of any 5-4 team. Brother rice plays 5-4 Wheaton Warrenville South, who also has strong strength of schedule, playing in the same conference as top and fourth seed Batavia and Wheaton North. Whoever comes out of this quarterfinal has a very good chance to go all the way.
Fourth seed Wheaton North has a very nice path to the quarterfinals. It's first round matchup against Larkin should be easily won, as Wheaton North's only loss is a close game against Batavia and Larkin has been very shaky this year, losing week 9 to a 3-6 Streamwood team. Hoffman estates plays Thornton Fractional South, with similar records and strength of schedule, this could be a tossup. 
Fifth-seeded Moline hosts Hampshire. Moline opted to play two CCL teams as it's two non-conference games, beating Saint Laurence and losing to a respectable Benet team by only two. As this is Moline's only loss, their first round matchup looks favorable against Hampshire, who went 5-4 and plays in a closed conference. The last matchup on the top half is Whitney Young Vs. Willowbrook. Young had a good season for their program's standard. However, Willowbrook lost to a very unimpressive Providence team early in the season, meaning that this one could go either way.
On the bottom half of the bracket there are two undefeated teams. However, one of them, Hononegah, plays in a closed conference, so it is difficult to gauge how good Hononegah really is since it has had no non-conference opponents to compare with. They will face Plainfield East first round though, who play in a weaker conference and should not beat Hononegah. 7-2 Pekin faces 6-3 Libertyville, and since they are quite far apart they have no common opponents, so this could realistically be won by either team. Geneva travels to 8-1 Collinsville, the furthest south team in class 7A, being a suburb of St. Louis. Geneva is 5-4, and despite playing in a tough conference, with a long road trip and tough opponent it seems tough for Geneva to pull off an upset here. The ten seed is St. Rita, whose only losses this year have come from CCL Blue powerhouses Mt. Carmel and Loyola, who is undefeated and the top seed in 8A. They play Rolling Meadows, who were 4-4, but upset a one loss prospect team to qualify for the playoffs. Rita seems to be the favorite to advance out of this cluster. 
Normal Community is the other undefeated team on the bottom half of the bracket, playing Eisenhower. Normal should easily beat Eisenhower, since they play in a tougher conference and went undefeated. Hersey and Jacobs is a toss up, since both teams have similar records and strength of schedule. Buffalo Grove should take care of Lincoln-Way West, while both play in tough conferences, Buffalo Grove is 8-1 while Lincoln-Way West is 5-4. Prospect, who finished 7-2 faces a Shepard team that went 5-4 in a weaker conference, should win, but they were upset week 9 by a 4-4 team.
Overall, 7A promises to be an interesting and exciting bracket for those fans not following a specific team in 7A, but for those rooting for a 7A team it is sure to be a thrilling ride from start to finish.