Two seconds. That's all the time 6'4" sophomore Derek Boyd needed to sink a buzzer beater baseline shot at the end of double overtime in the 1985 IHSA Basketball AA State Championship Game. 
Boyd's teammates and head coach Ed McQuillan celebrated their victory and soaked in the glory before getting back to work the next year, hoping to win yet another state championship. 
However, the Caravan didn't make it back to the big game the next season. In fact, Mount Carmel basketball hasn't played in a state championship game since that infamous winter night in 1985. Current head coach Phil Segroves and his squad are determined to change that. 
Led by Northwestern commit Angelo Ciaravino '24, the team has their eyes set on success. They came up short last year against Simeon Academy in the Sectional Championship with a final score of 70-47. Last year's team had a strong senior core which means this season will look a lot different. 
Players now have the chance to step up and take a starting role, or transfer in and earn their spot on the team. 
One transfer in particular is excited for his last season of high school basketball and has already bonded with other students and players during his first months of school at MC.
"It's my senior year which means it's my last one," said Christian Uremovich. "I've already come to know the brotherhood here and I like how everyone is connected during practice and also during school."
Uremovich has received offers from Vassar College and DePauw University. Last year he attended Stevenson High School where the team went 22-8. 
As a 6'7" forward, Uremovich will join other talented seniors such as Ciaravino and Tre Marks, whose size and strength greatly helped the team last year. 
This upcoming season will be Ciaravino's third as a varsity player. He's seen guys like Elijah Jointer, Deandre Craig, and older brother Anthony Ciaravino lead the team in past seasons. Now it's his turn.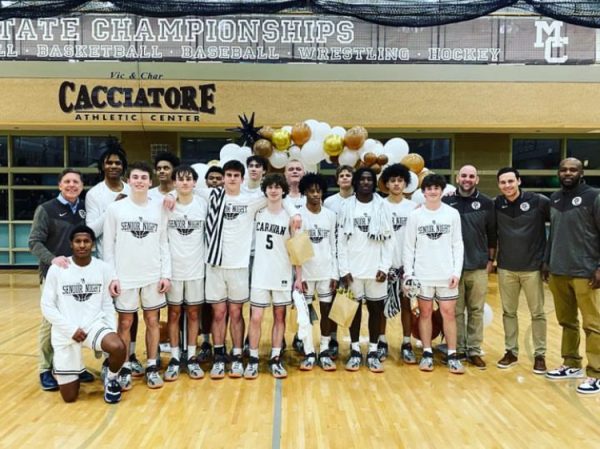 "We lost some big pieces from last year," said Ciaravino. "I feel like we have the type of guys that will step up and take advantage of this opportunity to be able to start and get more playing time."
Not only has the Caravan lost some key players from last year, but they also have a noticeably harder schedule this season. On December 1st and 2nd, MC will head off to Credit Union 1 Arena to play in the Chicago Elite Classic, a tournament that will showcase some of the best teams in the Chicagoland area as well as some teams from out of state.  
"We definitely have some teams to look out for," said Ciaravino. "Right now I'm thinking about playing Vashon at the Elite Classic."
The Caravan may have a tough schedule, but the team has been practicing a lot over the offseason. Whether it's lifts, summer league games and practices, or getting shots up before and after school, the team has been preparing for tough opponents. 
"There's a lot of greatness around here," said Marks. "Even though we lost some guys from last year, we're still a top tier team in the CCL."
A lot has changed in the Chicago Catholic League over the offseason. Skilled players have transferred to other schools while some teams have had out of state players transfer in. 
Whatever the changes may be, it's obvious that some teams might be a bigger threat to take down the Caravan than they have been in previous years. 
"The CCL is going to be very tough this year," said junior Christos Dimas. "This season in particular we're going to be looking at teams like St. Laurence, DePaul Prep, and Brother Rice. Every game is going to be a battle. That's the beauty of the competition in our conference though."
The reason there's so much competition in the CCL right now is because of young talent. As for the Caravan, there are two young players that have already made an impact.
"We should be deeper than we were last year," said junior Grant Best. "We're better and more prepared to make a deep run in the playoffs."
Best played on varsity last year as a sophomore and provided support as a guard when guys got into foul trouble. He didn't have as much playing time as the upperclassmen of course, but when he did play he became an immediate defense threat. 
Another player suiting up for the Caravan is familiar with MC hoops but transferred in from out of state. 
Junior Cameron Thomas went to school at Mount Carmel as a freshman and excelled in the basketball program. However, Thomas left MC at the beginning of his sophomore year.
"At first I wanted a change in my environment," said Thomas. "When I left, I missed Mount Carmel and the connections I had made my freshman year. I'm ready for my junior season."
Each player on the team has their own experiences and skills on the court. Head Coach Phil Segroves is ready to bring these skills together and build a winning team. 
"Some teams expectations are to win our Christmas tournament at Pekin, then win the Catholic League title and see where that takes us," said Coach Segroves. "I think by establishing ourselves as a strong team will motivate and lead us to go down state."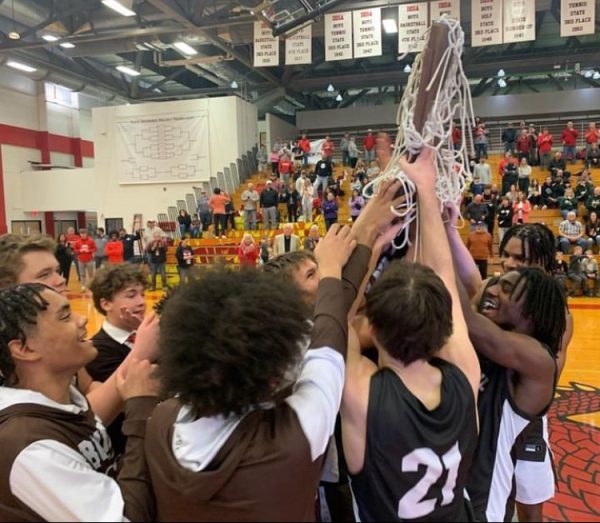 Coach Segroves and his team are ready for their upcoming season. They've adapted to adversity in the past, and are putting forth their best effort to do so now. 
"My number one goal is to never let our kids down," said Coach Segroves. "I want to put them in the best possible position to be successful."
Editor's Note:
If you'd like to watch any of the Caravan's home games, they will all be airing live on the Caravan Broadcast Network. Announcers Marty Mann '25 and Matt Malloy '25 are excited and ready for an incredible season.
Story continues below advertisement