It's tough to play college sports. What's even more demanding is making it on a collegiate roster. Of the millions of high school athletes that compete in a wide variety of sports, only 7% move on to play at the next level. 
MC has had a long list of skilled athletes that have played all over the country, some even making it to the professional league in their respective sport. 
Two Caravan athletes recently added their names to that list. Like many other high school students across the nation, seniors Aiden Gawel and Angelo Ciaravino signed their national letters of intent on the morning of Wednesday, November 8th. 
Their families, coaches, teammates, and school administration came to support them. Gawel and Ciaravino are extremely competitive athletes with Gawel playing on the lacrosse field and Ciaravino on the basketball court. 
But on the morning they signed their letters, they were able to reflect on their time at MC and truly celebrate what they had accomplished. 
Gawel originally committed to Hope College before changing his decision and ultimately choosing Elmhurst University as the place he would continue his academic and athletic careers. 
"Elmhurst was a better fit for me overall after I visited there and decided to keep my options open," said Gawel. "I feel like I jumped to conclusions in the beginning but then realized where my next home should be."
Not only is Gawel a skilled lacrosse player, but he's also a team leader that many other players rely on. 
"Aiden's a great teammate and an even better guy out of lacrosse," said junior and fellow lacrosse player Ryan Clark. "When I moved up to varsity he was the first guy to support me and show me the ropes."
Gawel is excited to join a great lacrosse program, and he's not alone in staying home and going to a school here in Illinois.
Angelo Ciaravino had an incredible offseason and has established himself as a leader on the basketball team. He received many offers including ones from Stanford and Miami-Ohio but ultimately decided to stay here in Illinois and commit to Northwestern University. 
"I was open to going anywhere at first," said Ciaravino. "But after taking a visit to Northwestern it just made sense to play Big 10 basketball at home. It just doesn't get much better than that." 
Gawel and Ciaravino are extremely talented in their respective sports, but they couldn't have done it without their coaches. 
"Coach Segroves and I have been through a lot," said Ciaravino. "My favorite memory with him has to be playing in the Pekin tournament last year and sharing that experience with him and my teammates."
As for Gawel, he's proud to have committed to Elmhurst where head lacrosse coach Matt McGuire is an alum. 
"My favorite memory with coach McGuire probably isn't even with lacrosse," said Gawel. "Over the summer last year my teammate Aidan Frangella and I got to golf at Jackson Park with him before we had our summer camp."
As Gawel and Ciaravino prepare for their final seasons here at Mount Carmel as well as their first collegiate seasons, the entire MC community is supporting them and wishing them the best.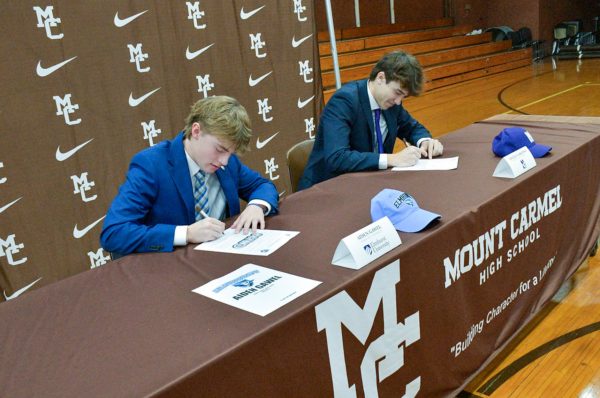 Story continues below advertisement