In the 1994 film "Forrest Gump," Tom Hanks has a 7-minute montage of Gump running across the nation over three years, two months, fourteen days, and sixteen hours.
Although he is a fictional character, Mount Carmel has their own Forrest Gump fan club also known as the Caravan cross-country team, which just wrapped up another season. They are led by the legendary theology teacher, Mr. Daniel Burke '98, who himself was a member of the team when he was a student at Mount Carmel.
Cross country is a simple sport of just running in one direction. The team has 19 members– nine juniors and seniors and ten freshmen and sophomores.
"Cross country is a sport where it's really your own determination that shows how good you are," said senior captain Naath "Tuna" Kulatunga.
Kulatunga has been part of the team since his freshman year, but there is a strange story behind how he joined.
"I actually didn't want to join or know that I was joining," he said, "Two weeks before school started, my mom told me that I was a part of cross country."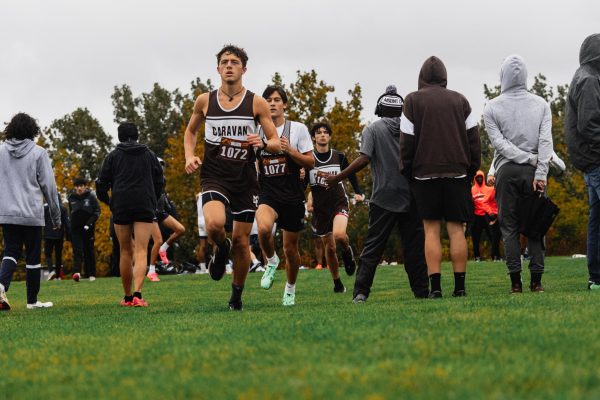 He disliked running, but he went to the first practice a week or so before school. Three years later, he's now the captain of the team.
For practice,  the team just runs, but they have a unique running route. Starting at the school before sprinting across Jackson Park to the Lakefront, they jog up to the 43rd Street pedestrian bridge alongside Lake Michigan before making their way back. The distance is the same as the annual MC Walkathon in the spring. But some team members, such as juniors Christos Dimas and Leonard Siegal, choose to run farther than that mark.
"There's a race for everyone," said Coach Burke.
The team had an invitation race every Saturday from the first Monday of August through the state meets on the first weekend of November. The Caravan was fortunate to make it to the IHSA Sectional Race on October 28th of this year. 
"What's great about the running community is how supportive the community is," Coach Burke said. "Everyone recognizes how much work it takes to get to the 3-mile race."
Three miles might not sound that far, but being able to run it in under 20 minutes is a challenge. 
"It's a lot harder than it looks," said Dimas.
Dimas is one of the best-performing runners on the team, being able to run three miles in around 18 minutes. Last year, he placed top 10 at five invitations. At the 2023 IHSA Class 2A Cross Country Regional at St. Ignatius, Dimas placed 21st with another MC runner, sophomore TJ Kolke, placing 17th. 
MC cross country has a lot of up-and-coming runners like freshmen Michael Valerio, Nolan Esquivel, and Mike LaMantia. All three are some of their best runners this year, with Esquivel ending up as one of their top runners at the end of the year.
Even those on the team not posting some of the top times are still finding the sport valuable.
"Life is kind of like a running trail," said sophomore Adam Stanislawski, "I'm discovering what it's like as I run along."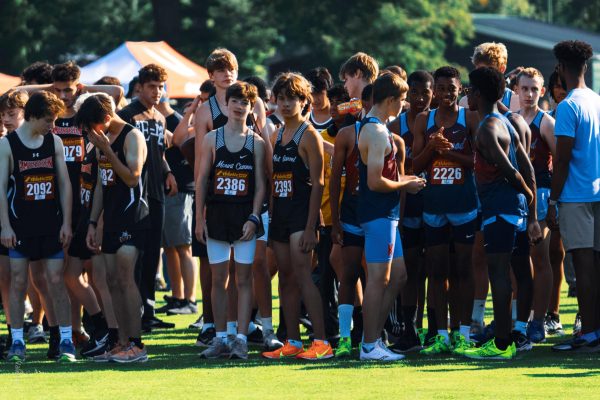 Stanislawski isn't one of the top runners but is one of the regulars. He still carries that same attitude that he learned during his freshman year. Stanislawski mentioned that he won't succeed without help from the upperclassmen, especially 2023 graduate Kevin Jacobs who was the captain of the team during the 2022 fall season.
Although the team might not have garnered a lot of hardware, the team is mostly built on the spirit and support of the guys. The comradery keeps the team pushing and overall just having fun. Coach Burke said everyone will run, that is guaranteed. 
"We're heading the right direction," said Coach Burke.
They might have some tough competition, but with new blood in the program, the team has a bright future ahead. It's a long run for sure, but these men are clearly born for it.
Story continues below advertisement