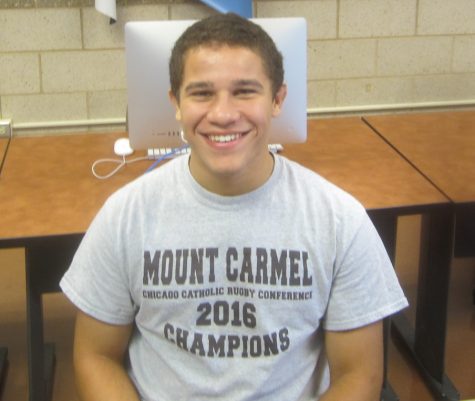 Emmanuel Terrell, a senior at Mount Carmel, was born and raised in Humboldt Park. He attended A.N. Pritzker grammar school in Wicker Park, and graduated in 2013.
Terrell intends to wrestle in the winter sports season and also play rugby in the spring for Mount Carmel.
He enjoys exploring the many facets of the English language, and someday looks to pursue a career in writing. He is hoping to further his education in college at a smaller liberal arts school.
Outside of school, Terrell participates in My block My hood My city, a youth outreach program which allows youth to explore the many neighborhoods within Chicago and their own communities.
As a senior, Terrell hopes to contribute his colorful perspective to both mccaravan.com and the Mount Carmel community.
Emmanuel Terrell, Staff Writer
Oct 13, 2016
Oct 03, 2016

Southside showdown comes to Beverley

(Story)

Sep 27, 2016

Activities fair encourages all to get involved

(Story)

Sep 15, 2016

McArdle committed to making MC accessible for all

(Story)

Sep 13, 2016

Fr. Leopold brings his Carmelite passion back to MC

(Story)