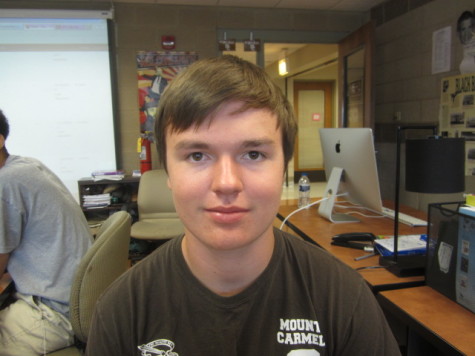 Jack Lockard, a senior at Mount Carmel, was born and raised in the Beverly neighborhood on the South Side of Chicago. He attended Christ the King Grammar School from which he graduated in 2013.
His major academic interest is in English, and he hopes to pursue a career in creative writing or journalism.
Lockard is a member of Mount Carmel's varsity football team, and also plans to again play lacrosse in the spring.
Outside of Mount Carmel, Lockard works as a lifeguard at a country club. He also spends a lot of time at his local bookstore.
As a second year staff member for
The Caravan,
Lockard will have a hand in the editing and publishing process of the on-line newssite.
During his college search this fall, Lockard will be exploring major universities in the Midwest and on the East Coast.
Jack Lockard, Staff Editor
May 17, 2017

Gratitude for a "life-changing" school

(Story)

May 05, 2017

McClurge to pursue his next adventure at Cornell

(Story)

Apr 27, 2017

Fight Night raises money, requires courage

(Story)

Mar 27, 2017

Nik Scanlan '17 to attend VMI in the fall

(Story)

Mar 09, 2017

Coach Menn taught tennis skills, life values

(Story)

Feb 10, 2017

Giving witness to the value of every human life

(Story)

Jan 12, 2017

CRS testing day is here . . . again

(Story)

Dec 06, 2016

Dan O'Keefe '14, North Central claim NCAA XC championship

(Story)

Nov 21, 2016

Diversity Dinner encourages discussion and respect

(Story)

Nov 16, 2016

House of Hope offers refuge from city streets

(Story)

Nov 03, 2016

Inaugural Leadership Conference teaches event planning

(Story)

Nov 03, 2016

Student Council: new year brings new ideas

(Story)

Oct 25, 2016

O'Shea brings leadership to 19th Ward

(Story)

Sep 02, 2016

Jake Goldberg, new media specialist, brings "unconventional skills" to MC

(Story)

Jun 03, 2016

Construction in the courtyard: what's going on?

(Story)

May 23, 2016

Lacrosse celebrates record season at MC

(Story)

May 03, 2016

Journalism students get inside look at Trib

(Story)

Apr 14, 2016

My Spain trip: an experience I will never forget

(Story)

Apr 06, 2016

Spirit Week breaks through late winter doldrums

(Story)

Mar 22, 2016

Wrestling recap: MC takes the country by storm

(Story)

Mar 01, 2016

MC journalists moonlight for the Mash

(Story)

Feb 16, 2016

Why I'd vote for Ted Cruz (in 300 words or less)

(Story)

Jan 22, 2016

Sheriff Tom Dart '80 named Catholic Lawyer of the Year

(Story)

Jan 08, 2016

Eagle Scouts learn lessons, earn recognition

(Story)

Dec 10, 2015

MC swimming and diving ready for upcoming season

(Story)

Nov 12, 2015

Smart classrooms – the future of learning at MC

(Story)

Nov 02, 2015

Boxing champ's key to life: "Just keep going"

(Story)

Oct 23, 2015

Judge inspires Caravan journalists

(Story)

Oct 02, 2015

Freshmen make impact "Caring for Creation"

(Story)

Sep 23, 2015

Recent graduate happy to be on the other side of the desk

(Story)

Sep 14, 2015

Byrne brings a superintendent's experience to the Caravan

(Story)