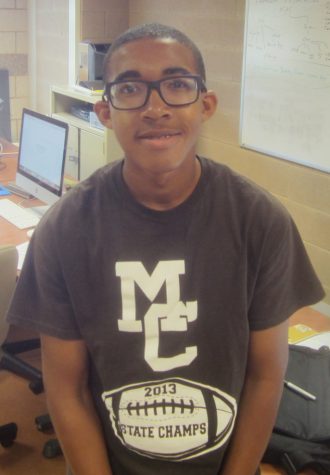 Kendall Nichols graduated from Kenwood Academy in Hyde Park with a 4.33 G.P.A.  He has maintained that track record of success as a current junior and honors student at Mount Carmel, where he also loves playing soccer and plans to try out for the rugby team. As a student-athlete, he values teamwork and camaraderie above all else.
Coming from a family with six siblings, he currently resides in South Holland, Illinois. Nichols dedicates himself to his studies, sports, and family life, and prides himself on leading the way for younger generations.
Outside of school, Kendall is very engaged in teaching his younger brother different life lessons.  Overall, Nichols is dedicated to becoming a great man of Carmel through his work ethic and following his personal motto: "I go wherever the wind takes me."
Kendall NIchols, Staff Writer
Mar 16, 2017

Notre Dame's ACE program encourages service to Catholic education

(Story)

Feb 21, 2017

Seniors Fekete and Kudaisi lead speech team into sectionals

(Story)

Feb 10, 2017

Iglesias '13 pursuing his dream at Bradley

(Story)

Feb 02, 2017

IMG poses threat to high school sports

(Story)

Jan 31, 2017

Dress code policies stir thoughtful debate

(Story)

Jan 27, 2017

Roots and Multicultural Club revamp format for Diversity Dinner

(Story)

Dec 12, 2016

Facing bounce back year, Caravan breaks through against Vikings

(Story)

Dec 01, 2016

Mothers to break out dancing shoes

(Story)

Nov 17, 2016

Justin Fekete illustrates Carmel values

(Story)

Nov 17, 2016

Soccer playoff journal: a tale of history and heartbreak

(Story)

Nov 10, 2016

Day of the Dead celebration remembers loved ones

(Story)

Oct 21, 2016

St. Louis tourney sets up Caravan Soccer for success in playoffs

(Story)

Oct 04, 2016

Homecoming week offers break from routine

(Story)

Oct 04, 2016

Caravan athletes excel in academics

(Story)

Sep 07, 2016

Brother's tip leads Kohn to new role in Advancement office

(Story)

Sep 02, 2016

Nelson brings enthusiasm to both resource and volleyball

(Story)