Mount Carmel selects Ned Hughes '70 as new president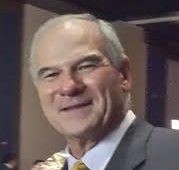 Advertisement
Hang on for a minute...we're trying to find some more stories you might like.
(April 25, 2016: Chicago, IL) The Board of Members of Mount Carmel High School announced the appointment of a new president, Mr. Edward Hughes. The announcement was made by the Very Reverend William J. Harry, O. Carm., prior provincial of the Carmelites and chair of the Board of Members of Mount Carmel High School, following an extensive search.
Hughes is a 1970 graduate of Mount Carmel. He says, "My passion for Mt. Carmel started at a very young age as two of my older brothers also attended Mt. Carmel (57' and 66')." He currently serves as chairman of the school's Finance Committee and is a member of the Board of Directors of the school. He will be the first non-Carmelite to lead the school.
He comes to Mount Carmel with forty years of global operations and finance experience with Motorola, Inc. Hughes received his degree in accounting from University of Illinois at Chicago, in 1976. His professional career started at an entry-level accounting/finance position and ended as an elected officer, corporate vice president of finance. While working at Motorola, he continued his academic education and completed his MBA at the University of Chicago in 1987. He retired from Motorola in 2015.
Hughes will officially begin his appointment on July 1, 2016.
In making the announcement, Fr. William said, "The Board of Members is very grateful to Fr. Mazurkiewicz for his leadership at the school these past five years and for his openness to the needs of the Carmelites by returning to school for an advanced degree in spirituality. At the same time we want to welcome Mr. Edward Hughes as the new president of Mount Carmel. He brings a wealth of business and financial experience as well as a familiarity with Mount Carmel. His leadership skills, quality of character, and commitment to excellence will be tremendous assets to Mount Carmel as it continues to build its history of academic excellence in the 21st century."
Mount Carmel's outgoing president, Fr. Tony Mazurkiewicz, O. Carm., is a 1992 graduate of the school. He served as a teacher at the school for one year before becoming the school's president in 2011. His leadership advanced the school's mission by providing academic excellence to the students while maintaining a spirit of diversity and a focus on Carmelite values.
A search committee established by the Board of Members was comprised of members of the two boards, the administration, faculty, staff, alumni, and parents from the school.
Mount Carmel High School is the oldest of five Carmelite secondary schools in the United States. Originally located on Jefferson Avenue (now Harper Avenue) and established as St. Cyril College in the fall of 1900, the current building located on South Dante Avenue was dedicated as Mount Carmel High School in November 1924 and has been added onto several times, the last addition being dedicated in 2005. The mission of Mount Carmel High School is challenge students To Live with Zeal for God, for Life, and for Learning.