Jake Goldberg, new media specialist, brings "unconventional skills" to MC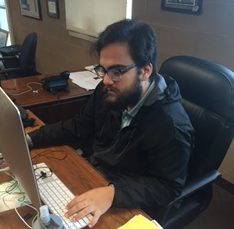 Advertisement
Hang on for a minute...we're trying to find some more stories you might like.
As a media specialist for Mount Carmel, you're likely to run into situations you have never dealt with before. Mr. Jake Goldberg, who joined the staff on August 1, is ready whatever may come, and with his past work experiences for Uber's Accident Support and running social media accounts for a whiskey distillery in Wisconsin, he brings a lot of experience.
Goldberg's approach to creating videos is to incorporate students as often as he can. As he points out, there's "something about seeing yourself on camera that is very exciting."
Running the Twitter and Facebook profiles is a big job.  With more then 2, 800 followers on Twitter and a constant stream of visitors to the Facebook page, Goldberg has to know what's going on at Mount Carmel at all times, and then  update the community through social media. With the many activities that take place on a daily basis at MC, from monthly Mass, to soccer games almost every other day, football games on Friday Nights, promoting a College Night that is approaching in October, and recent news about Spring trips, he has a full plate already.
At the same time, Goldberg is developing a documentary that follows the varsity football team through this year's schedule. He also will create promotional videos for the school.
Goldberg grew up in Indiana and went to Columbia College in Chicago, which is known for its media studies. His vision for the power of videos goes beyond MC, even beyond Chicago or Illinois, to make Mount Carmel a school known across the country and perhaps the world.
"I want students to be excited to be here and want future students to get excited about coming here."
About the Writer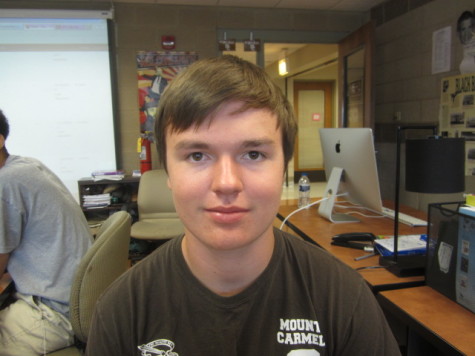 Jack Lockard, Staff Editor
Jack Lockard, a senior at Mount Carmel, was born and raised in the Beverly neighborhood on the South Side of Chicago. He attended Christ the King Grammar...