Mount Carmel welcomes Ms. Fagan into the community
Advertisement
Hang on for a minute...we're trying to find some more stories you might like.
Mount Carmel High School recently hired many new teachers. Ms. Kerrie Fagan was proudly welcomed into the community as an English teacher. She is the one of the new female faculty members here. She primarily teaches Freshman and Sophomore Foundations English, and also Sophomore Excel English.
Ms. Fagan just graduated from St. Norbert, and is now teaching for her first time at Mount Carmel. She says it is difficult since it is her first job, but also because it is a different atmosphere at an all-boys school. She is with teenage boys from 8:00-2:40 each day, and most of the faculty are males so it has been a bit weird for her. Ms. Fagan does admit sometimes she feels like it is harder to earn students' respect, rather than the other teachers here. She still doesn't let that affect her drive to teach the young men of Carmel. She is very comfortable with the situation she is in and feels that this is just a learning experience for her and her classes.
Ms. Fagan does have a getaway for relief. Usually three times a week she spends her evenings at Mount Carmel coaching the cheerleaders. She feels this is her girls' time to get a little break from being with the all-male community. Also what helps her love her time here is the faculty, even though it is majority male. According to her, they are very supportive and she loves being with them. She gets along well with everyone.
Although Ms. Fagan is a female teacher here, there is not much of a disconnect. She enjoys her time here, and feels this is a wonderful school community to be in.

About the Writer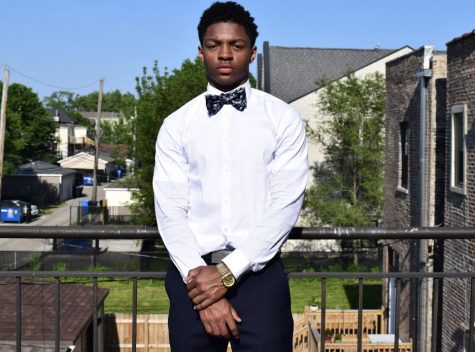 Jalen Weathers, Staff Writer
Jalen Weathers is a senior at Mount Carmel High School. He is a well rounded student athlete, receiving a 3.7 GPA and plays on the varsity football and lacrosse teams. Jalen is also involved in many educational and mentorship programs outside of Mount Carmel, especially the Kappa Leadership Institute which is one of the best mentorship, college readiness programs in Chicago for minorities. With the help of Kappa League, Jalen got the opportunity to study abroad in Greece this past summer. He says being alone in a foreign country helped him strengthen his independence and broaden his perspective on life, understanding the differences throughout the world. Jalen hopes to carry the knowledge back to his hometown, Chicago, and apply it when attending college to study architectural engineering.