Nevrly reunites with Villa at MC
Hang on for a minute...we're trying to find some more stories you might like.
Mr. Brooks Nevrly, a new member of the English Department at Mount Carmel, once turned down the opportunity to play volleyball at Princeton University because of the exorbitant cost of the Ivy League school.
Nevrly ended up enrolling at Dominican University, a smaller school in River Forest Illinois, where his volleyball team went to the elite eight and final four in the Division III national championship tournament.
At Dominican, Nevrly initially was pursuing a math degree, but switched to English because of his "passion" and believed he could teach it better. He received a Type 9 teaching certificate in English and American Studies.
While at Dominican, Nevrly met Mr. Dominic Villa, a current staff member at Mount Carmel. Through that friendship, Nevrly found out about the job opening at Mount Carmel after a year of student teaching at Riverside Brookfield.
This year, Nevrly teaches Honors English Two and American Literature. He explained that the all-boy experience is "not a huge difference,(from his student teaching experience in a coed school), but definitely more relaxing." Also, Nevrly was quick to talk about the great experience studium is for MC students. "I think it is really cool to have studium. People really want to have conversations with each other."
Something that stood out to Nevrly about MC in the first two weeks is "how everyone knows each other and there is no boundary between freshmen and seniors."
Nevrly will take on being the assistant volleyball coach to Mr. Villa this season. His goal for the team this year is to "focus on the basics and jell as a team."

About the Writer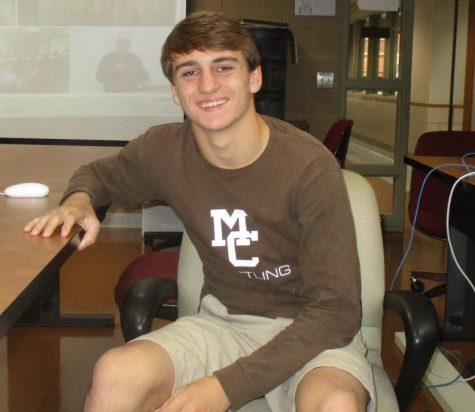 Miles Hoey, Staff Writer
Miles Hoey, a senior at Mount Carmel, is a varsity wrestler who lives on the South Side of Chicago in Beverly. Hoey would love to pursue his dreams of...