Love of storytelling leads alum to publishing success
Hang on for a minute...we're trying to find some more stories you might like.
Mount Carmel graduates go on to success in many different fields:  business, law, medicine, engineering, etc.  Not many, however, have found their success as authors of children's books.    Mr. George Vlasis '98, who went on from MC to become a Golden Apple teacher in Barrington, Illinois, did just that with the recent publication of "Helmet Man and the Chocolate Cake." 
Vlasis, who was born and raised in Oak Lawn with his two sisters, Caroline and Kim, has many great memories from his time at Carmel.
One of his best memories was how – on his first visit – he felt like he "belonged." Vlasis recalls coming to Carmel being very shy, and believes that no other school would have allowed him to have the type of experiences he had here.
Vlasis was involved with the rugby program and won a championship with the team. Along with rugby, Vlasis performed in the play "One Flew Over the Cuckoo's Nest" and played a character named "George."
After his time at Carmel, Vlasis attended Loras College in Dubuque, Iowa. It wasn't until a few years ago that Vlasis even considered writing a book.
The inspiration for his book came from two places: his love for storytelling and the students he teaches. Vlasis would frequently share a story with his students that everyone seemed to enjoy.  When one of his students said, "You should make that story a book," Vlasis was inspired to write "Helmet Man and the Chocolate Cake."
The process took around two years. These two years included the time thinking about the book and then actually starting to write it out.  The main character is named "Helmet Man" and is based on Vlasis' own childhood memories, of a time when he would use his imagination to pretend he was a super hero.
Since the motivation for this story came from his students, Vlasis has enjoyed sharing the finished product with them. Every time he reads it to his students, they love the pictures and always want to hear it again.  Each time, he is glad to be able to show his students that something as small as a story can turn into something amazing.
Along with being a writer, Vlasis is a teacher who has won the Golden Apple Award, an annual recognition of excellence in teaching. His advice to other young teachers is for them to believe anything is possible and to give them opportunities that will help them grow in amazing ways. He also reminds teachers that it is very important to build meaningful relationships with families.
Vlasis is currently writing a new story which continues the adventures of "Helmet Man." Vlasis believes, "We all have a story to share, so no matter how small or big, it needs to be told."

About the Writer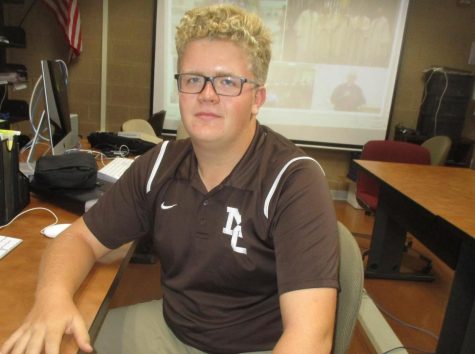 Nick Gulotta, Staff Writer
Nick Gulotta is a junior at Mount Carmel High School in Chicago, Illinois. Gulotta grew up in Lansing, where he attended Memorial Junior High School. Gulotta...