Kubik working to be the best
Hang on for a minute...we're trying to find some more stories you might like.
Anthony Kubik, goalie and team captain of the varsity lacrosse team, goes all out every game and makes sure his teammates do the same.
"By getting everyone to realize that no matter the score, if we go 110% in every part of the game, we will be happy in the end."
His philosophy is simple:  "Just leave everything on the field and we won't be disappointed."
Kubik started playing lacrosse when his dad "forced him" to go to a camp in 3rd grade.
He hated it for the first two or three weeks, but eventually fell in love.  "My coach asked 'Who has a cup?' and I raised my hand." That's all it took for "Boomer" to be anointed as the team's goalie.
He stayed with the position for several seasons, "but the summer going into 7th grade I played attack just to try it.  Then I realized I loved playing goalie.  I've played in goal ever since."
It was one thing to enjoy the position; another to excel at it.
"I was always good, but wasn't over the top.  I worked at it a little, but wasn't fully committed to the game."
Freshman year at MC is when he began to take it more seriously.
"I changed clubs to work with one of the best goalie coaches in the state. I began to work really hard when I was told that I had the potential to be good.
In addition to getting quality coaching, Kubik also benefitted from the support of his dad, MC Coach Joe Kubik.
"I don't think I would be where I am without my dad. Without even knowing much about lacrosse, he would help me with anything. "
Kubik has gotten many offers to play lacrosse in college, and actually visited Florida Tech, Colorado Mesa, Alabama Huntsville, Merrimack, and the University of Indianapolis.  But after all the visits, he still wasn't really sold on any of the schools.
Kubik picks up the story there:  "Rockhurst was my last offer, and it wasn't even in the running. Then my club coach reached out to my dad about Rockhurst University in Kansas City. He strongly recommended that I go visit, but we weren't going to travel there if there wasn't a scholarship."
Then, one Tuesday after school, Rockhurst's coach, Coach Kelley, reached out with an offer for Kubik.
"My dad and I made some moves and we flew out there.  I visited all day Wednesday, watched practice, talked with the academic people, and just hung out with the guys on the team all day. Within the first few hours of being there, I knew it was the place for me."
By the time Kubik left campus he knew he was going to commit soon to Rockhurst.
"I took a few days to think, talk with my parents, and pray on it. A few days later I called Coach Kelley and told him that I wanted to commit. Since then, I haven't looked back."
Kubik hopes to play the next four years in college, play the best that he can, hopefully win a national championship, and be an All-American. After that, he thinks he might like to pursue a career in coaching.
Although he still has his senior season for MC lacrosse ahead of him, he has one eye on his future at Rockhurst.
"I can't wait to be there for four years."

About the Contributor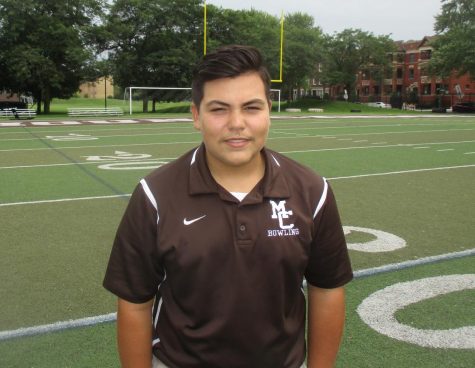 Matthew Martinez, Staff Writer
Matthew Martinez, born in Chicago, goes to Mount Carmel High School on the South Side of Chicago. He went to grade school at St. John the Baptist in Whiting,...