Mount Carmel students enjoy trip of a lifetime
Hang on for a minute...we're trying to find some more stories you might like.
I was among ten Mount Carmel students who traveled to Italy, Monaco, France and Spain over Easter break with MC Spanish teacher Antonio Mota. Seniors Nico Padilla, Sergio Mendieta, David Gutierrez, Tom Dart, and Christian Sanchez were joined by juniors Charlie Pineda, Josh Heiden, Connor Kelly and Jack Frangella for the spring break trip of our lives.
The first day of our trip was uneventful, as all we did was travel. We had an eight hour plane ride to Switzerland, then a one hour plane ride to Milan, followed by a three hour bus ride. When we boarded the bus, our group met up with another student group with us from Taconic Hills High School in New York, with whom we were paired for the week.
Once we arrived at our hotel, we settled in,  ate dinner, then Mr. Mota took us on a walk around the town at night, which was especially memorable because we went on a pier. All you could see were the streets behind you.  The night sky made the sea look like a pitch-black canvas. After our walk, we chilled at the hotel until morning.
The second day in Italy was filled with walking, which was fun but tiring. We traveled by train to Cinque Terre, an amazing place, where I enjoyed some fantastic gelato. Mr. Mota made us hike up a mountain to get a better view of Cinque Terre.  We climbed for 20 minutes just to get the picture below, but then for some odd reason hiked another 20 minutes.
We spent the whole fourth day in Nice. It was raining, which really was terrible because we had four hours of free time to walk around. By the end, my backpack was soaked, including all of my belongings inside. I bought an umbrella but it was so cheap that it broke in the first hour. Despite the rain, we climbed some stairs to get a better view of the city.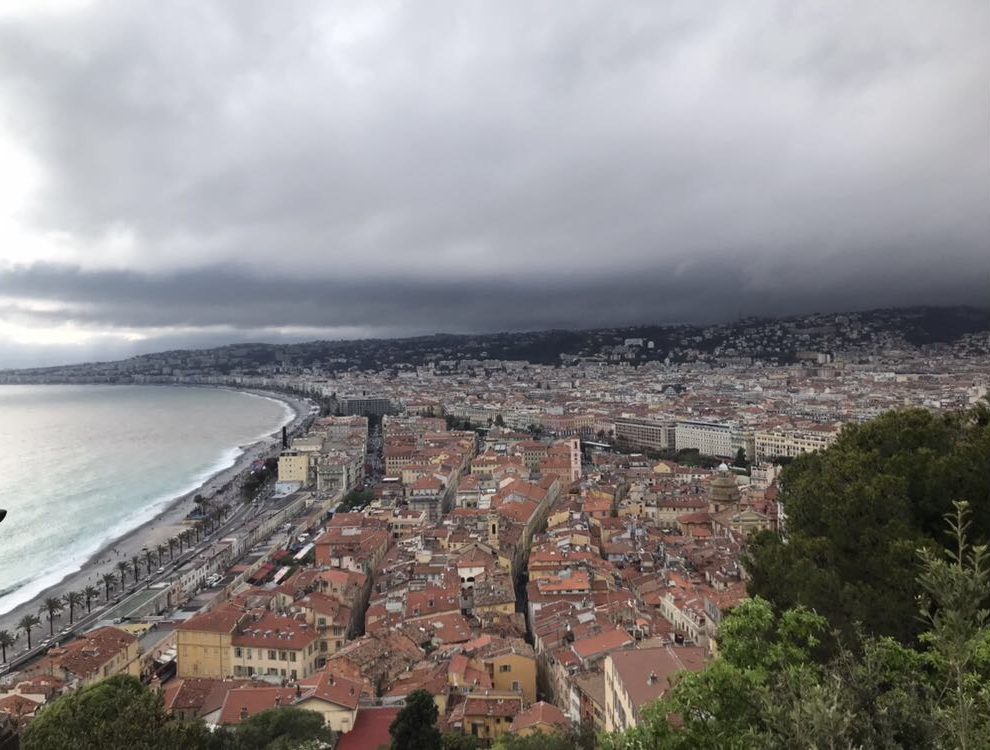 Later that night, Mr. Mota wanted to again to find a bowling alley. Luckily, they had lanes open, so we rolled a game. It was a lot of fun, and we all had a few laughs at how bad people were doing. Now I could say that I bowled in France.
The next day, we had a six hour bus ride to Barcelona. Along the way I got to know a few of the students from New York, and we had some conversations about our respective schools. Overall, it was a great bus ride.
We stopped in the little town to walk around and eat lunch, and I enjoyed an unbelievable ham and cheese crepe.
After we left the small town, we got to my favorite hotel of the trip. There already were five or six groups from other high schools there, including some kids from Vermont. That night after dinner was pretty fun.  Some of the New York students and some of our students were playing card games. After those card games, I stopped to play some ping-pong against some of the Vermont students. I have a ping pong table in my garage, and I absolutely destroyed them. After a few quick games, I went back to cards until it was time to go to our rooms.
The next day had to have been my favorite. We had a two-hour bike tour, explored alleys, sidestreets and the boardwalk on the beach. Then we had around four hours of free time.
We walked around, returned to the beach for a while, and later met up with the other group for dinner.
The dinner was filling, but just alright. After dinner we went back to the hotel for some more fun and enjoyed games of pool with some of the New York students until it was time to go to our rooms.
The last day, we went to Montserrat, which had unbelievable views. The bus ride up the mountain was insane: we were up at least 2,000 feet. When we got to Montserrat, we took a tour then had a few hours of free time. I bought my parents some souvenirs when I was there.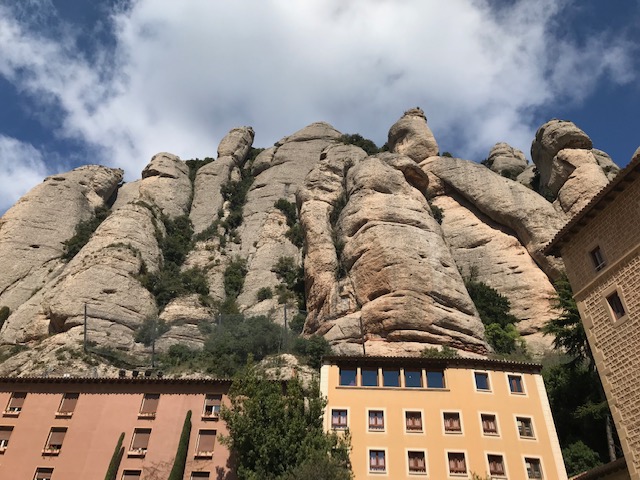 After Montserrat, we went back to the city to have more free time. There, I bought a jersey from my favorite fútbol team's store, FC Barcelona. I also bought a jacket for my brother at the same store. 
After our free time, we went back to the hotel to chill and hang out because we knew it was our last day with the other group. There were some hard goodbyes to the great friends we made from New York, but I got some of their Snapchats and Instagrams so we could still communicate with each other, so that was good.
The next day, we flew to Switzerland, then home to Chicago.
The trip was a great experience filled with mazing experiences and great people.
About the Contributor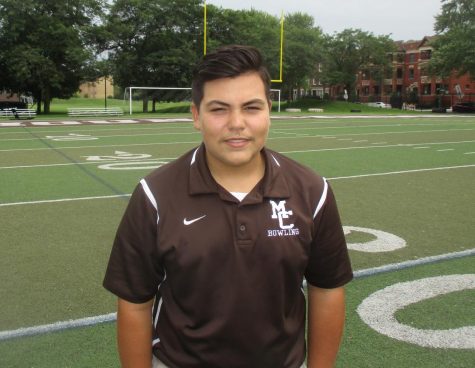 Matthew Martinez, Staff Writer
Matthew Martinez, born in Chicago, goes to Mount Carmel High School on the South Side of Chicago. He went to grade school at St. John the Baptist in Whiting,...