Why I drive a Mazda CX-5
On May 24, 2019, I got my driver's license at the age of 16. I was really excited, however I didn't have a car.
My dad had bought a 2016 Mazda CX-5 in July of 2015 and had been driving it ever since. I learned how to drive in that car, and even took my driving test in it. However, after I got my license, my parents went to Mexico, and I was left with the car. When they returned from Mexico after a month, my dad wanted to take me to the dealership to buy me a new car.
That's when I told him that I didn't want a new car – I wanted to have the Mazda. My dad said "OK,"and instead went out to buy himself a car. He ended up settling for a GMC Terrain.
I cleaned up the Mazda, put new tires on it and changed the oil. The day my dad purchased his new Terrain, I named the Mazda CX-5 "Amelia." I could've gotten a brand new car, but I chose "Amelia" because it was special to me. I named it after Amelia Earhart, a famous pilot who flew across the Atlantic.
I picked the Mazda over a brand new car because in my opinion it was worth more. My mechanic always says, "just like humans, cars have feelings." That taught me to always take care of any car I own.
Mount Carmel students drive many different model cars.  I think mine sticks out because there are only a few Mazdas in our school's parking lot. I love my car because it is very fuel efficient, which is important as I drive to and from Indiana everyday. The car also has a lot of space in the back and a lot of leg room. I plan on keeping this car for as long as I can.
About the Photographer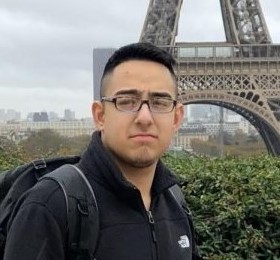 Angel Samperio, Staff writer
Angel Samperio, a 17-year old senior at Mount Carmel High School,  grew up in Lansing, Illinois, after coming to the US from Mexico in 2005. In 2006 he...