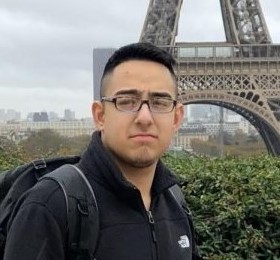 Angel Samperio, a 17-year old senior at Mount Carmel High School,  grew up in Lansing, Illinois, after coming to the US from Mexico in 2005. In 2006 he moved to Schererville, Indiana, where he has lived ever since, attending Grimmer Middle School.
A hard worker in and out of school, Samperio has been employed at McDonald's since March of 2018, and has received several promotions during that time. He currently is a Service Department Manager and loves working with his employees and customers.
Samperio loves to travel the world and visit new places, and has been to over 12 countries including Mexico, Canada, UK, France, Spain, Germany, Finland, Russia, Netherlands, Belgium, Portugal and Switzerland. He hopes to continue to travel the world after he graduates from college, and would love to become a travel blogger.
Angel Samperio, Staff writer
Jan 08, 2021

If you thought 2020 was crazy… 2021 will be better

(Story)

Dec 17, 2020

Winter break to be followed by remote learning this year

(Story)

Dec 09, 2020

COVID-19 vaccine on the horizon

(Story)

Nov 20, 2020

Hughes to retire in June

(Story)

Nov 12, 2020

Biden to be 46th president

(Story)

Nov 05, 2020

Chicago prepares for possible post-election violence

(Story)

Oct 25, 2020

Indiana upbringing leads to an Illinois education

(Story)

Oct 19, 2020

Tabernacki's plan for COVID-19

(Story)

Oct 16, 2020

World surpasses one million COVID-19 deaths

(Story)

Oct 02, 2020

Disinfecting wipes finally back in stock

(Story/Media)

Sep 28, 2020

Why I drive a Mazda CX-5

(Media)

Sep 21, 2020

No joke: a personal experience with COVID-19

(Story)

Sep 14, 2020