Centennial Hall display to be updated
Centennial Hall, located in the hallway that runs along the west side of the Cacciatore Gym, is well known and frequently travelled by Mount Carmel students and staff.  Opened in 2005, Centennial Hall tells the history of Mount Carmel since its founding at St. Cyril's College in 1900. It is a timeline that incorporates text and photos that relates Mount Carmel's history to major events in Chicago, the nation and world.
Now, 15 years after Centennial Hall was dedicated, it is in need of being brought up to date with the many events that have occurred since 2005. As Mount Carmel continued its history, worldwide events like the economic crash of 2008 and the COVID-19 pandemic of 2020 need to be added to the timeline.
Even as American society and world events have unfolded, there also has been considerable change to the campus.
The old St. Cyril School was demolished in 2009 to make way for an expanded parking lot. The Main Building was tuckpointed and power-washed, returning the brick to its original deep red.  Beginning with the third floor in 2017,  the classrooms and hallways of the Main Building were gutted and rebuilt, adding technology and creating more flexible classroom spaces.
Most recently, the football field was developed into Barda-Dowling Stadium, creating an opportunity – for the first time in history – for MC to host football games on campus.
While the campus evolved in many ways, there also have been numerous programmatic changes since the Centennial Hall display was opened 2005.  IMPACT Weeks, Studium, Exposition MC, the and Freshman Overnights all have been added to the MC experience in those years.
Similarly, the school has seen a transition in its leadership and staff.  Legendary teachers such as Mr. Matt Smith and Mrs. Debbie Whitaker have retired; beloved faculty and staff like Mr. Curt Ehrenstrom, Mr. Kevin Hansen, Mr. Frank O'Connor and Mrs. Joanne Marcinko have died.  Mount Carmel evolved into lay leadership, beginning with Mr. John Stimler being named principal in 200, and Mr. Ned Hughes' appointment as president in 2016.
All of these changes to our buildings and grounds, along with the programmatic and personnel changes of the past 15 years, need to be added to bring Centennial Hall up to date..
About the Contributor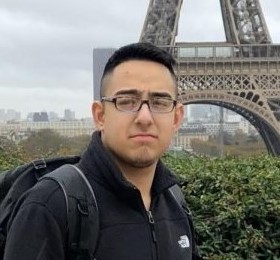 Angel Samperio, Staff writer
Angel Samperio, a 17-year old senior at Mount Carmel High School,  grew up in Lansing, Illinois, after coming to the US from Mexico in 2005. In 2006 he...