Dashing for cash
Doordash is the most popular food delivery service in America. If you haven't heard of Doordash, let me explain.  It's basically a food delivery service for restaurants that do not have their own delivery system.
For example, if you don't feel like driving to the restaurant, you can order your food from places like Panda Express, Chipotle or Wingstop, Doordash and have the food delivered right to your door.
This is also good for people who don't drive, people who are quarantining, and the elderly who are more at risk for COVID-19 exposure.
However I am not writing about my experience ordering food on Doordash. I want to share what it is like to deliver food with Doordash, and how it makes a difference in our community.
I started doing Doordash in March 0f 2021 right after I turned 18. After my background check was completed, I got started right away.
There is a lot I needed to learn about "dashing." First was making sure I was not being underpaid for orders. I never accept $3 orders because this indicates that the person didn't tip. I like to say "No Tip. No Trip!"
Second, I always make sure the pay is higher than the mileage being driven for the order. I would rather accept a $13 order for 4 miles instead of an 11 mile order for $5.
After I accept the order, I drive to the restaurant and wait for the order to be ready; 75% of the time the order is already ready to go. However other times the order is still being prepared. There have been times where I have had to wait 20+ minutes for an order because the restaurant didn't have the order ready either because they were busy or short staffed. This really makes me angry, because I don't like to wait more than 5 minutes for food. After I pickup the food, I place it in a hot bag and deliver it to the customer's residence.
Doing Doordash is a good way to make money and a good side hustle to do whenever you'd like. I've met people of all ages who do it. It is very flexible and very convenient for many people. Any Mount Carmel student who has a car and is 18+ should give it a try!
About the Contributor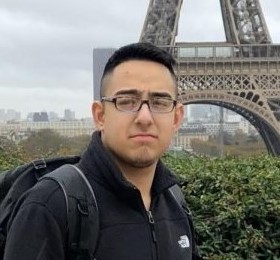 Angel Samperio, Staff writer
Angel Samperio, a 17-year old senior at Mount Carmel High School,  grew up in Lansing, Illinois, after coming to the US from Mexico in 2005. In 2006 he...