Ms. Beavers rolls out red carpet for AP Spanish
When students are able to combine fun with learning, it can make for the best classes. That is exactly what Ms. Valerie Beavers has been able to do with her AP Spanish 4 class. 
In that class, Ms. Beavers  wanted to make reading and understanding Spanish short stories easier and more fun. She decided to not only have the students read and comprehend the stories as per usual, but she had the students act out the stories outside of class, film them, and present the videos during class to all faculty who were able to come. That was perfect because one of the students, Noah Sanchez, is a filmmaker and volunteered to film and produce all the short stories. The two short stories being filmed were "Chac Mool " by Carlos Fuentes and "La Noche Boca Arriba" by Julio Cortazar. The class presentations were also given in a red carpet-type event. In the classroom there were movie posters, food and drink, and theater seating.
A lot of preparation went into producing this event, especially for Sanchez, who filmed, edited, and even did some of the scriptwriting for both films. "Yes there was a lot of preparation and work for me to do, but I enjoy doing this so it was really cool I was able to do it for class," he said. 
The creation of the films not only had a lot of preparation go into it, but it was a long process as well. "We had to do everything from comprehending the stories, scriptwriting, filming, editing, rehearsing, to presenting all in the span of a couple of months," said Ms. Beavers.
She is always trying to find new ways to teach and find better ways to help students understand Spanish. She feels having a unique project such as making a short film allowed students to understand Spanish in a new way and for some students a better way. "Since this project required students to memorize their lines and really get into character, I think it really helped them understand and learn the content of the story," said Ms. Beavers. 
In many Spanish classes, but especially in a class like AP Spanish 4, students can have trouble with really understanding and comprehending such advanced Spanish that the class requires. "Requiring myself to comprehend and memorize my lines really helped me understand the Spanish better," said senior James Collins. "Since this was a group project, and I was one of the main actors, I really had to make sure I knew my lines and performed them well which helped me understand the Spanish better." 
Although the purpose of making this film was to help students understand the content of the short stories, Beavers also wanted to add a fun aspect to it. "I think doing the final red carpet type event added a really fun aspect to the project and was especially satisfying for the students who saw the final product," she said . "Having everything from servers, reporters, photographers, and even other faculty members at the event was really nice and I think it turned out great."
In addition to helping students understand and comprehend the content of the two spanish short stories, it also provided a fun change of pace for the students compared to what class usually would be. When students are able to combine learning with fun, it can make for a great experience for them.
About the Contributor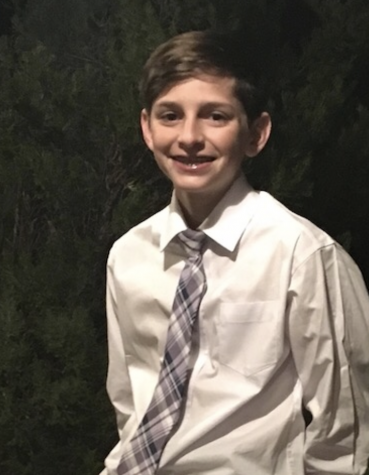 Patrick Hatzis, Staff writer
Patrick Hatzis is a senior at Mount Carmel High School. He was born in the West Loop, but now lives in the South Loop of Chicago. Hatzis attended private...