Studium is experiencing changes
One of the unique programs at Mount Carmel is Studium, a mid-day "advisory" period that meets four days a week, during which students from different class levels gather with their specific faculty advisor. While just 24 minutes long, this period provides an opportunity for students from different class levels and parts of the city to build bonds, participate in different competitive activities against other studiums, raise money for the missions, and to enjoy a "brain break" in the middle of their daily schedule.
With Trimester 2 drawing to a closed, the Student Success Committee, which consists of the counselors and McDermott-Doyle staff, raised a concern about the number of students who are struggling to attain passing grades. In light of this concern, they proposed designating some or all of Studium time for study.
While the idea of carving out additional time for students focus on academics seems logical, it also raises an issue of  competing values, and in turn a question: "Is the relationship building and competitiveness of Studium more important than the extra time students could be spending on study or make-up work?"
According to Principal Scott Tabernacki, roughly 20 percent of students are "struggling," meaning they currently carry one or more failing grade. Tabernacki believes that this struggle often is a result of time management problems, the changes in routine that occur as sports seasons end, and/or the panic of one failing subject that leads to more failing subjects, which Tabernacki calls "the slide."
In response to the counselors' concern, Tabernacki has devised a plan to help those students, which he explained in an email to parents:
"Through many academic conversations with my dedicated staff, we have identified a need to help all of our students. Studium time is important, and I will be the first to tell you how important some of this time is for our young men and my staff.  However, this is a crucial time in the day where our young men are still focused, and they are easily accessible to teachers, tutors, and all of our resources.
"Beginning [February 11], we are going to begin to take a more intensive approach to supporting our young men … (During Studium on Tuesdays and Thursdays) students will be expected to focus on their classes – completing assignments, getting targeted tutoring, and working in small groups or pairs with other students on projects."
As Tabernacki indicated, during these "silent study days," students are to focus on doing work to get caught up. If a student has good grades and is caught up with work, Tabernacki believes that there still is something a student can be doing, such as tutoring other students or studying for exams.
When confronted with the change last week, not every student was pleased.
Junior Marty Walsh doesn't see the change as helpful, at least for students who aren't struggling.
"I don't have an F," he noted. "I'm very frustrated with the change. Studium is usually the downtime of my stressful day."
The good news for those like Walsh who are not on board, is that for now, the change is being made on a trial basis. Following Trimester 2 exams, the administration, faculty, and counselors will evaluate the change to determine future directions.
Tabernacki plans to "work with Mr. Stimler along with other teachers to make sure that there is no crucial loss in activity, especially the competitive activities" such as intramurals.
Stimler, who as Director of Mission and Ministry oversees Studium, had a few ideas to preserve those competitive activities that students enjoy, and to maintain some of the other values of Studium.
For example, activities could be scheduled around study days, using ideas like  double-elimination tournaments as opposed to the same-floor "conferences" that have determined intramural matchups in the past.
Tabernacki is open to other ideas from both faculty and students.
"I've had a few students discuss ideas already, and I'm taking all suggestions."
One such suggestion has been to designate "focus rooms" where students could go to receive help in a certain subject or have a quiet place to do work, while others participate in regular Studium acivities.
Whatever decision is made, Stimler emphasizes that "Studium is more than just an activity period.  It can build relationships with students who wouldn't normally acknowledge each other."
And he added, "Even though it's messy, Studium has a value to it."
About the Contributor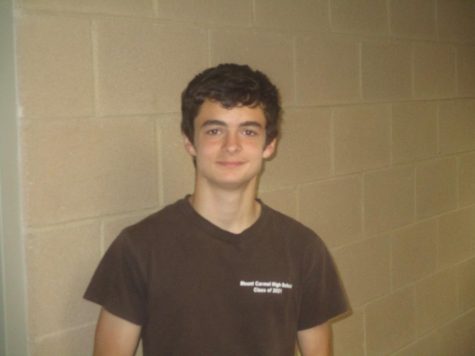 Joseph Williams-Tubay, Staff writer
Joseph Williams-Tubay was born in Chicago, Illinois, and attended Saint Benedict Preparatory School. He now attends Mount Carmel High School as a junior....