IncubatorEDU allows students to start businesses
IncubatorEDU is a course offered for the first time this year to juniors at Mount Carmel. The course offers an authentic entrepreneurship experience as students divide into teams, develop their own product, device or service, and turn it into a business. At the end of the course, the program holds a Shark Tank like presentation event for the students to pitch their business. Judges select one team to win $2500 and move on to the national competition.
Mr. Anthony Massino taught the entrepreneurship class and facilitated students by helping them to solve any problem they ran into and by giving ideas to keep progress flowing.
As this first year of the program wraps up, the teams already have presented their ideas to judges for the following products and businesses:
Hoodie Clips are a custom clip-on device that keeps your hoodie strings from coming out of your hoodie. The prototype has a simple design and the product works well. If they receive the $2500 investment, The company has ideas of adding cartoon characters and superheroes to their product to appeal to their younger target audience. "Hoodie clips is a creative idea and it has a lot of potential," said Ned Hughes, one of the judges. 
Pi (personalized itinerary) is an online service that provides users with a "super personalized" list of things to do in their area. Early on, The company had struggles with developing an app and working against bigger competitors like Google Maps. Now, Pi has an active website and over 100 users that have already signed up for Pi's service. "The idea of a custom experience that relates to you will bring in an audience," says Nolan Fletas, one of the founders of Pi.
Art Hive is a website that will allow digital artists to post their unfinished work to a feed that will allow other artists to edit and complete their work. Art Hive solves the problem of art pieces being a tedious process. The creators of Art Hive say that getting new artists to sign up will be a challenge, but once their website starts to get traction it will be a success.
The Arch team plans to design and make custom multi-tools. Customers will be able to design their own personal multi-tools. This addition of customization will benefit the customers because they won't be forced to pay for excess tools that they will not use on their multi-tool. The idea of a customizable multi-tool will definitely be appealing to Arch's target market.
After pitching their business ideas, the students patiently waited to hear the winner of the prize money. Massino and Principal Scott Tabernacki, who served as judges of the competition, awarded two $500 prizes to the top two groups: Pi and Hoodie Clips. The groups will make a final pitch on May 27 to determine the winner of the $2500 prize.
About the Contributor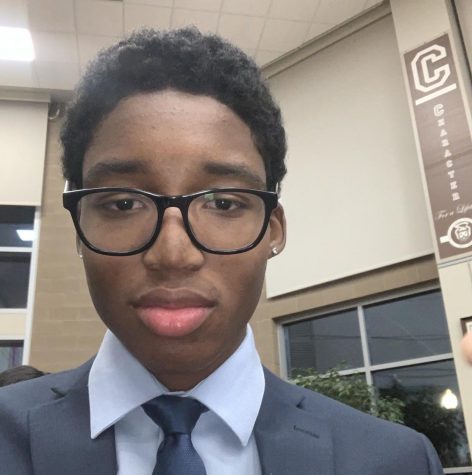 Blayr Young, Staff writer
As a student determined to succeed, Mount Carmel senior Blayr Young has many goals he aspires to reach in the future. Young is a four-year AP student at...