Veterans honored at school-wide assembly
To some people, Veterans Day is simply a day off of school. In reality, it means so much more. Mount Carmel has had many veteran alumni throughout the years, so the school decided that they should honor those veterans for their service. 
On Thursday, November 12, Mount Carmel held a school-wide assembly to honor the veterans who have walked the halls of Mount Carmel. Set up by the school with the help of Terry Stadler '65, there were ten veterans who are Mount Carmel alumni who attended the assembly. Those veterans were Mike Duhig '58, Phil Faro '62, Jim Civik '64, Jim Publins '65, Bill Lesko '65, John Potocki '65, Tom Hotchkiss '65, Dennis Radowski '65, Phil Kearns '65 and Jim Duhig '65. 
The first speaker, Jim Civik, talked about not only his experiences in war but also about carrying on his father's legacy based on his dad's experience in the invasion of Normandy.
Civik felt so honored to be sitting with those ten other veterans. He has so much respect for them because of their "enormous sacrifice" and how much they have done for the United States of America. 
There were four student speakers/presenters for Thursday's event: seniors Noah Sanchez, Anthony Nicholson, Patrick Sullivan, and Nolan Fletes.
In a student reflection, Fletes recalled reading a Mount Carmel magazine as a child and reading the story of Danny Miller, a Mount Carmel alumni that died in service just one year after graduating.  "I am touched and honored to be in the presence of people like these," Fletes said.   
Sanchez also felt honored and lucky to be in the presence of people who served our country. "It is crazy to see all of these war veterans knowing what they have gone through to get to this point, it is amazing," Sanchez said. 
After the Veterans Day assembly was finished, some students were truly touched and felt privileged to be able to receive wisdom from those people. 
Senior Ryan Sullivan said the speeches, especially Civik's, "made me realize how lucky I am to be in the position that I am today."
Another senior, Devin Jones, found that hearing the names of Mount Carmel alumni who were also war veterans was eye-opening. "Seeing all the veterans sitting in front of me, and hearing all the veterans called out made me realize the sacrifice they made not only for themselves and their families but for generations to come," Jones said.
In all, having those ten veterans be there and hearing their stories really touched a lot of students because of how much it makes them realize that they are lucky to be in the position they are in. After this experience, a lot of students realize why Veterans Day is more than just a day off. 
About the Contributor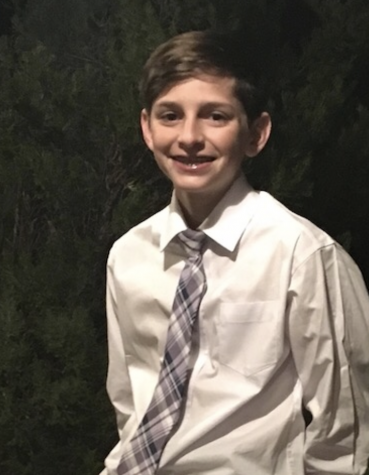 Patrick Hatzis, Staff writer
Patrick Hatzis is a senior at Mount Carmel High School. He was born in the West Loop, but now lives in the South Loop of Chicago. Hatzis attended private...