Indiana upbringing leads to an Illinois education
Mount Carmel students come from all over Chicagoland. There are students from over 120 zip codes and two states!
I have lived in Schererville, Indiana, for over 14 years. Going to school in Chicago has allowed me to experience a different world than the one in which I grew up.  In this essay, I'll compare how different life is in Northwest Indiana (NWI) compared to the city of Chicago, where Mount Carmel is located.
I commute everyday from Schererville to Chicago. It takes anywhere from 50 minutes to 1 hour and 10 minutes to get there depending on traffic. Commuting is a hassle due to traffic and people who just can't drive. It's difficult navigating around all the traffic, but I still manage to get to school on time. Traffic is not an excuse to be late to school, so I have to get to school at 8 a.m. to park and get to class.
Chicago is way different than Indiana. The first thing to notice is that there are no cornfields! However, there is easy access to public transportation, and for only 75 cents I can get from 63rd Street to 53rd Street, or $2 to take the Metra train downtown.
I like going down to 53rd Street, because there is a bank down there, a Target, a grocery store and a lot of delicious restaurants to eat at. I also love to go to downtown Chicago and eat at Portillo's and walk around the many shopping malls there are. Coming to Mount Carmel gave me this great privilege.
Comparing where I live in Schererville to Chicago, there's not much going on. There are no good restaurants besides McDonald's. There is no public transport and no shopping malls besides Southlake Mall in Hobart. However, I see a lot of people horseback riding in some areas, and it is not uncommon to see a tractor driving down the road going 4 mph.
In my experience at least, police in Chicago don't care if people fly 70 mph on Stony Island Ave. In Indiana, Police will stop you just for going 10 miles over the speed limit, or if you have one broken taillight. Although to be fair, the police in my home of Schererville aren't really that strict. They seem to be always hanging out at Round the Clock Diner and Dunkin Donuts at all hours of the night, but they are still helpful when you need them. I've been pulled over twice and always have gotten a warning. They are very understanding.
Potholes in Chicago are worse than Indiana, but I get used to hitting them after a while. Most of the time I just swerve to avoid them, so I don't get stuck in one.
NW Indiana is also pretty safe. I haven't seen a single cop car on my street in months. In Chicago it is unfortunately a different story, because crime is a reality. You need to be more street smart.
In many ways I enjoy both NWI and Chicago. However, they are definitely different places. 🙂
About the Writer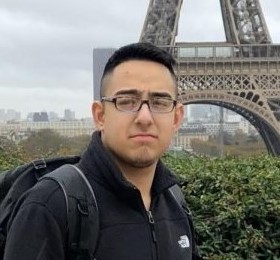 Angel Samperio, Staff writer
Angel Samperio, a 17-year old senior at Mount Carmel High School,  grew up in Lansing, Illinois, after coming to the US from Mexico in 2005. In 2006 he...