Biden's plan addresses major challenges
Joseph R. Biden was sworn in as the 46th President of the United States on January 20, 2021. After being inaugurated, he wasted no time in signing multiple executive orders.
Biden started addressing his campaign priorities by re-joining the Paris Agreement on climate change and the UN Health Organization. Trump's administration withdrew the United States from both organizations during his time in office.
The pandemic "playbook" (officially titled "Playbook for Early Response to High-Consequence Emerging Infectious Disease Threats and Biological Incidents") was created in 2008 by President Bush. President Obama used it to fight Ebola in 2015 and then expanded it. According to a YouTube video from Business Insider, published in June of 2020, Trump disbanded the pandemic playbook in 2018 which resulted in it not being used to fight COVID-19. Upon taking office, Biden had the pandemic playbook brought back and expanded.
The COVID-19 pandemic has changed our way of life in many ways. Now-President Biden, in the campaign debates, stated that Trump did not do enough to keep the country safe when the pandemic started, which resulted in cases and deaths being higher than expected.
According to CNNPolitics, in response to the challenge he inherited, Biden signed an executive mask mandate which requires everyone to wear a mask in government facilities, grocery stores, airplanes, buses and any other form of public transportation. He also required anyone arriving back in the U.S. from abroad to self quarantine and get tested. Biden also expanded testing and put a rush on vaccinations.
Biden also stopped construction on the border wall, re-opened the southern border to migrants and stopped the Muslim ban from many Middle Eastern and African countries, allowing more people to pursue the American dream.  America is a land of opportunity, not restrictions.
Lastly, Biden is pushing to increase the federal minimum wage to $15 an hour. He wants this to happen because many people are living paycheck to paycheck and can't pay their bills. He also wants to issue another stimulus check to help people who have been impacted by the pandemic.
After just one week in office, President Biden already has signaled his intention to address many of the challenges he inherited.
About the Contributor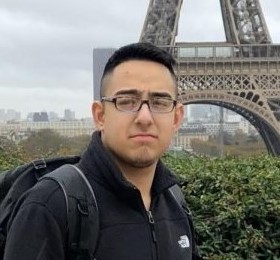 Angel Samperio, Staff writer
Angel Samperio, a 17-year old senior at Mount Carmel High School,  grew up in Lansing, Illinois, after coming to the US from Mexico in 2005. In 2006 he...