Fr Jim Lewis perseveres through challenging year
Father Jim Lewis, a counselor and Carmelite priest, has faced the struggles of COVID-19 along with the rest of us. He has paid extra attention to the rules and made sure he is as safe and as healthy as possible.
However for Father Jim, the pandemic has imposed an additional challenge, because in 2016 he suffered a stroke. While he has worked hard since then to regain strength and full capacities, he feels more vulnerable to the potential effects of COVID-19.
In addition to the personal challenges,  COVID-19 has also affected Father Jim's ministry, including the celebration of masses that are a big part of his life as a priest.
With the requirement of social distancing, churches are allowed limited capacity, which really affects the celebration, especially for weekend liturgies.
Father Jim regularly celebrates weekend mass at St. Joe's church in Joliet, and he also presides at Mount Carmel liturgies, which this year have been live-streamed into classrooms or held outdoors in Barda-Dowling Stadium.
Regarding the latter venue, Fr. Jim joked that this year, "We have spent more time on the football field celebrating mass than watching football games."
Father Jim appreciates the way the school has supported his ministry through COVID-19 and compliments Principal Scott Tabernacki, who "has done an amazing job of making all of this feel normal."
Father Jim's commitment to his ministry, despite the risks he personally faced and the disruption to normal routines, is an inspiration to others to keep going no matter what may stand in their way.
About the Contributor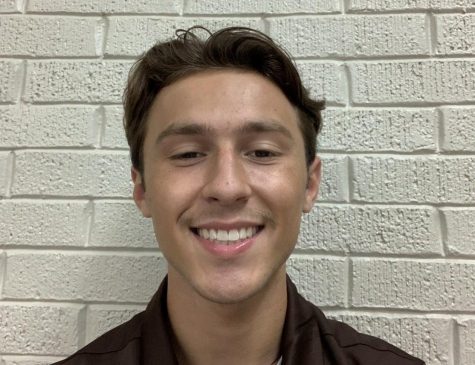 Andrew Robustelli, Staff writer
Andrew Robustelli is from Chicago Heights, Illinois, just south of the city. He attended St Agnes Catholic School from pre-school through eighth grade,...