Student athletes commit to Division One colleges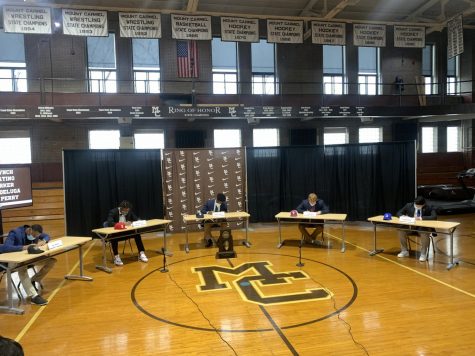 On Wednesday, December 16, five senior athletes committed to Division One colleges on signing day. Justin Lynch signed to Temple University, Kenenna Odeluga signed to the University of Pennsylvania, Ben Perry signed to the University of Louisville , Jaali Parker signed to Western Michigan University, and Julian Patino signed to Western Illinois University. All of the senior athletes committed for football.
The football team has formed a strong bond with each other over the past four years, making this a very important day for not just the five seniors but the whole team. Although Perry transferred to Hillcrest High School for his senior year because of COVID-19 and to graduate early (an option not available at MC), he felt that it was important for him to commit to college at Mount Carmel with his teammates.
"I can't thank my parents enough.  There is no other environment like Mount Carmel. Everyone here is like a little brother to me, and there is no other school that shows you the same love."
All of the athletes are excited to take their game to the next level, but signing day gave them a chance to reminisce on the atmosphere and traditions they will be leaving behind.
Lynch, the quarterback, says he will miss touching head coach Jordan Lynch's bald head before every game. Parker talked about some of his great catches against Willowbrook and Marist, and Patino discussed how it felt to kick game winning field goals and break school records.
Head Football Coach Lynch noted that all of these athletes have made many sacrifices to have such a successful high school career and get where they are today.
"The class of 2021 might be one of the best classes in Mount Carmel history. They have been undefeated since their freshman year and we hope to take home another state championship this year."
Mount Carmel President Mr. Ned Hughes praised and congratulated the athletes on signing da,y too.
"It takes a special individual to be a student athlete… these guys are a true example of what Mount Carmel is really proud of," said Hughes.
About the Contributor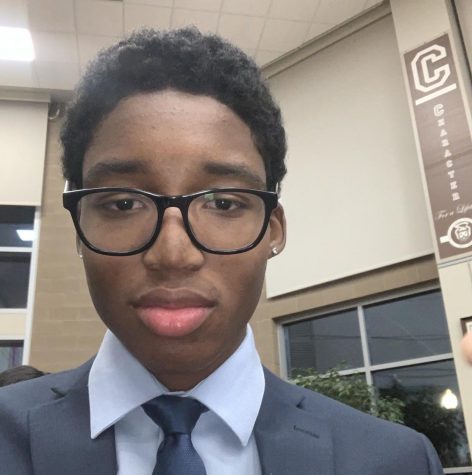 Blayr Young, Staff writer
As a student determined to succeed, Mount Carmel senior Blayr Young has many goals he aspires to reach in the future. Young is a four-year AP student at...