MC tennis swinging again
"When I saw that the team was coming back, it seemed like such a cool thing to do with my friends." 
That was the statement made by Junior Andrew-Javier Torres when talking about his decision to join the tennis team. 
Being absent since 2019, tennis is returning. Mandarin and English teacher and football coachMark Antonietti has decided to be the new coach of the tennis team, which is fitting because he has played tennis his whole life. The team practices on Monday, Wednesday, and Friday and typically plays matches on Tuesdays.
This year, the team is very open in what the players can do. Players can still join the team and actually play against other schools , or just come out to practice and be considered a "practice player." "Students can still join and play in either capacity," says Coach Antonietti. "They can compete or, if they want, can come out to just hit balls." 
That flexibility that tennis provides is why some students decided to join and have enjoyed being on the team. Junior Evan Solberg, who joined the team originally as a practice player but has since decided he wanted to compete, has really enjoyed the experience of playing tennis so far. "Being able to have the option of just having fun in practice while also being able to actually compete has made for a fun experience," said Solberg. 
Not only has tennis been such a great experience for so many students because of its flexibility of students being able to play  competitively or casually, but it has also created an opportunity for students to try something new without the stress of having to do very well. Sophomore Roshan Kalubi, who transferred to MC from Zambia in January, has played sports like soccer and volleyball but loves trying new things, so he decided to play tennis. He also recalled loving playing table tennis as a younger kid, so when the school announced they were bringing back the tennis team, he didn't want to pass up the opportunity. "When the school made a tennis program, my friends and I decided to play and have fun," he explains.
Kalubi has also really enjoyed his interactions with his fellow teammates when playing tennis. "My teammates push me to be a better athlete," he says. "Not only that, but to also be a better person in general." 
For a lot of students, they often want to try something new, but many sports are too competitive for a beginner to make the team. "Since I can either play tennis casually or competitively, it was a great opportunity for me to try something new," says junior Andrew-Javier Torres.
"I am so happy with my decision and am pleasantly surprised by how fun of an experience being on the team has been," says Evan Solberg, but judging off other players' opinions of the team, they would agree.
It seems like the return of tennis has been a big success and will most likely be here to stay.
About the Contributor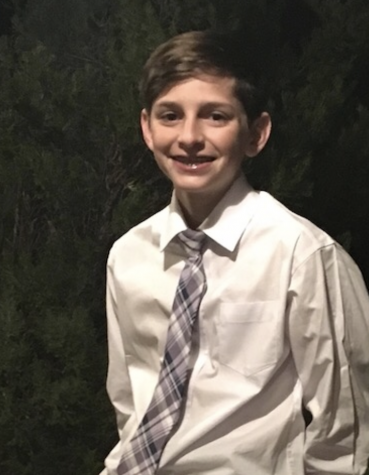 Patrick Hatzis, Staff writer
Patrick Hatzis is a senior at Mount Carmel High School. He was born in the West Loop, but now lives in the South Loop of Chicago. Hatzis attended private...