The Beauty Of Graceland Cemetery And Arboretum
Look into the eyes of eternal silence if you dare.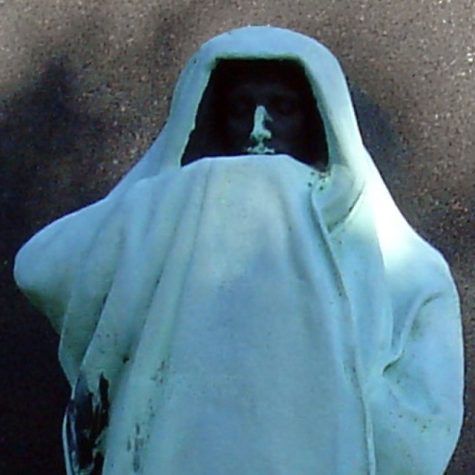 Chicago's historical Graceland Cemetery is more than just a place for the burial of loved ones. Why is it the place to visit during the Halloween season in Chicago?
Graceland Cemetery, located at 4001 N. Clark St., was established in 1860 and consists of 119 acres, housing the graves of some of Chicago's most famous historical figures, such as department store founder Marshall Field, Potter Palmer of the famous Palmer House Hotel, architect Daniel Burnham, Alan Pinkerton, Chicago's first detective as well as secret service founder, and Joseph Medill, a Chicago Tribune editor.
In addition to the historical features, Graceland Cemetery is home to the Dexter Graves Monument, also known as the Statue of Death or Eternal Silence. "Supposedly if you look into his eyes," says Jensen Allen, Executive Director of Graceland, "you will see your own death or demise."
The large bronze statue is hooded, the face somewhat hidden, standing over thirteen feet tall, and was created by American sculptor Laredo Taft.
Another frequently visited site is The Girl in the Glass Case, Inez Clark, a statue of a young girl who is said to disappear during lightning and thunderstorms because she is afraid of bad weather. On my visit to Graceland Cemetery, last year, I saw that many little gifts and small objects were left at Inez Clark's grave sight for the child spirit to play with. Legend has it that she was killed by a strike of lightning, but Allen says that is merely a myth. "She died as many kids did back then, from diphtheria," she says.
The underground mausoleum of Ludwig Wolff is said to be protected by the ghostly apparition of Wolff's beloved pet, which was a wolfhound. The wolfhound has been seen pacing the area surrounding the tomb, especially on nights with a full moon. Some say the sighting is just a coyote, as coyotes are known to roam the north side cemetery. The mausoleum was built with a vent on the top because Ludwig Wolff was afraid of being buried alive, and he wanted to be sure an airway was available in case this happened to him.
According to Allen, ghost hunters have set up EMF (electromagnetic field) readers and have conducted temperature readings to see if evidence existed of paranormal activity. "They haven't been successful, but they do come and talk to us about them, we listen to them, you know everyone has their own interests," she says.
However these ghostly tales may be debunked, they are still widely talked about and fun to retell to family and close friends.
Although Graceland Cemetery has ghostly tales of haunting's, there is still beauty to be cherished within the cemetery, from the memorial of Potter and his wife, Bertha Palmer, designed like a Greek temple overlooking a beautiful lake lined by weeping willows to amazingly designed architecture fit for people looking for a jaw-dropping experience. The above-ground mausoleums are designed like small houses, some with elaborate architectural design."We are open for a lot of things more than just you know, being a place of sadness," says Allen. "We want to be a place that celebrates life."
But what about the deceased who occupy the space at all times? "We obviously still want to respect the people who are here that are mourning but we want people to enjoy the green spaces as well because it is not very plentiful in the city."
Graceland Cemetery has also been certified as an arboretum, with at least 2000 trees on the property. The green space is used by joggers, bikers, and people who enjoy walking the winding paths. A regularly traveled path is the footbridge leading to the island graveside of Burnham, a Chicago city planner and architect who is buried on an island along with some of his family members.
Burnham is known for many accomplishments in architecture. His work with city planning and rebuilding Chicago after the Great Chicago Fire of 1871 and his involvement with the Columbian Exposition of 1893 as the Director of Works, designing the famous and historic White City, are among his many great accomplishments.
Graceland Cemetery as a whole is full of wonders and beauty meant to be enjoyed by everyone, not only to mourn those who have passed but to see the true vision of color and life behind the vale of darkness. Graceland Cemetery is open during the pandemic Monday through Friday 9:00 AM to 5:00 PM, Saturday 10:00 AM to 3:00 PM, and closed on Sunday.