Class of '65 vets share memories, wisdom with current students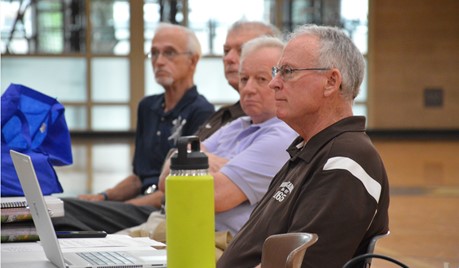 On Thursday, May 20, all of Mr. Brooks Nevrly's junior English classes met in the Cacciatore Athletic Center to listen to four Vietnam War veterans, who also are Mount Carmel alumni, speak about their experiences in that conflict. The assembly was organized by Mr. Terry Stadler '65, who has made it his mission to gather and preserve the records and experiences of MC alums who fought in Vietnam.   
Stadler is the author of "The Ultimate Sacrifice:  Men of Carmel, KIA in Viet Nam," which was self-published in May 2019.  In his account, he notes that among the dozens of classmates who served their country in that war, five died:  Thomas E. Bromley, James T. Clair, Thomas C. Connolly, Don Mate and Patrick J. Sweeney.  These men also are honored on the memorial plaque in Mount Carmel's Graham Center.
This is the second time Stadler has organized an assembly of speakers for the American Literature classes, the first assembly being in 2018. This year's speakers were Jerry McGovern, John Cavanaugh, Jay Crissey and George Dombrowski. 
Like Stadler, all four veterans were members of the Mount Carmel Class of '65, and either were drafted or volunteered for the military soon after they left MC. In addition to Stadler, they were joined for the assembly by another classmate, John Potocki.
After graduation, Jerry McGovern wanted to join the Marines right away, but his father wouldn't let him. However, as soon as he turned 18 he enlisted on his own.
Soon after, in March of 1966, he was deployed to Vietnam as part of the 2nd Battalion, 5th Marines. Arriving on the USS George Clymer, his unit immediately experienced a 4.6 magnitude earthquake.  Shortly after that, he was wounded, "after being in Vietnam for about twenty minutes."
McGovern recalled that his experience was far from unique.  He experienced soldiers being killed and wounded "from the minute they landed to the minute they left."
On January 26, 1967, McGovern was among 150 US soldiers who were ambushed by 1,500 Vietnamese troops in what was the biggest fire fight of the Vietnam War.
During his tour of duty, McGovern witnessed over 100 Marines die, and over 300 wounded. 
John Cavanaugh, who joined the Army in September of 1967, was part of the 9th Infantry, and arrived in Vietnam in March of 1968.
Like McGovern, Cavanaugh recalls many friends and former teammates who died in the war. In May of 1968, his unit lost over 2,600 men in one month alone, and that kind of experience had a lasting impact.  Cavanaugh recalls it took "five-plus years to get his life back on track after returning from the war."
After graduating from Mount Carmel and before entering the service, Jay Crissey attended Loyola University. He arrived in Vietnam in the spring of 1969.
His experience was a bit different from most Vietnam veterans, as he served in the United Sates Coast Guard, patrolling the rivers and bodies of water in the country. Out of the 58,000 Vietnam war veterans on the memorial walls in DC, eight are Coast Guard veterans.
George Dombrowski was drafted in January of 1968 and arrived in Vietnam on June 14 of that year.
But little did he know that just two years and two months after leaving Mount Carmel he would become disabled for the rest of his life. Throughout his time in Vietnam he felt "never able to relax." Dombrowski recalls "hills being bombarded" and "smoke everywhere," even though he was stationed in Vietnam for only two months.
Dombrowski vividly remembers the time when his fleet went to recover bodies after an ambush describing the scene as "surreal," recalling that there was "blood everywhere."
The temperatures in Vietnam was harsh, even as hot as 105 degrees.
He also remembers being wounded while in a formation with other soldiers.  The person directly next to him died, while another suffered a "gaping whole in his chest." The explosion blew out his hamstring and his elbow joint, and completely destroyed his femur.  He has no flesh on the back of his legs.
Dombrowski suffered all of these injuries when he was only twenty years old.
The medics treating his wounds said the back of his leg looked like "hamburger meat."
Despite the life-long disabilities that resulted from those devastating injuries, Dombrowski's final words to the current MC juniors were positive and motivating.
"Never hark on what you cannot do. Focus on what you can do." 
About the Writer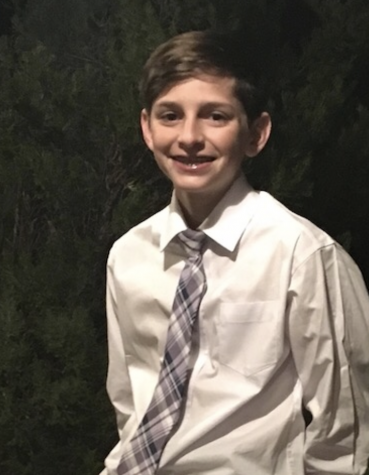 Patrick Hatzis, Staff writer
Patrick Hatzis is a senior at Mount Carmel High School. He was born in the West Loop, but now lives in the South Loop of Chicago. Hatzis attended private...