Remembering the life of Fr. Peter Hinde, O. Carm
Fr.Peter Hinde, O.Carm, a Mount Carmel alum who was valedictorian of his class, died from COVID-19 complications on November 19, 2020, at the age of 97. In a remarkable life, he was a former World War 2 fighter pilot, a civil rights activist, an advocate for immigrant rights, and a person every Mount Carmel student should look up to.
Fr.Peter was born in 1923 Elyria, Ohio, but was raised in Chicago. After two years of studying engineering at the Illinois Institute of Technology in Chicago, he volunteered for the Air Force in 1942.
As a fighter pilot, Fr. Peter experienced the aftermath of war, most notably the destruction caused by the atomic bombing of Nagasaki toward the end of World War 2. In an entry in his private autobiography, cited in a story in The National Catholic Reporter, Fr. Peter recalled that the experience of seeing the destruction of Nagasaki initially had little impact.
"For a brainwashed pilot at 15,000 feet, it was simply a casualty of war."
Fr.Peter joined the Carmelites in 1946 and was ordained a priest in 1952. Three years later he traveled to Rome to study theology. While traveling in Europe he met a Japanese Catholic priest and a former fighter pilot from Hiroshima. Fr. Peter built strong bonds and friendships with them, and those interactions seemed to reframe his understanding of war.
They also undoubtedly contributed to his commitment to social justice work, for which he is best known.
Throughout his ministry as a Carmelite, Fr. Peter was a huge advocate for the poor and the oppressed.  He fought for civil rights both in his own country and in Central and South America.
After returning from his studies in Rome, Fr.Peter supervised the Carmelite Theology House in Washington, D.C. It was the height of the civil rights movement, and Fr. Peter organized the Carmelite seminarians to tutor poor students and joined them in civil rights protests.
Later, when some complained that his civil rights advicacy was causing the seminarians to fall behind in their academic endeavors, Fr. Peter requested permission to minister in Peru.  There, he organized indigenous catechists in the Secuani region alongside mercy Sr. Betty Campbell, who would turn out to be a very close friend and colleague of his for over 50 years.
Throughout the years of his ministry, Fr.Peter often worked with others to search for solutions to the poverty and marginalization of of the poor. Along with Sr. Betty, Fr. Peter traveled t many parts of Centra and South America, but always in a way that kept them in contact with working class people by either traveling second class or driving in big vehicles.
Later, Fr. Peter brought his ministry to El Salvador, which was a country being plagued by civil rights violations at the time. In 1980,  he witnessed the aftermath of the devastating murder of Archbishop Oscar Romero, as well as the assassination of five Jesuit priests in 1989.
In 1985, Fr. Peter co-founded Christians for Peace in El Salvador (CRISPAZ). This organization was meant to educate people in the States by allowing them to meet their neighbors in South America and hear stories about the constant murder, rape, and violence in those countries.
As part of the "reverse mission" of CRISPAZ, Fr.Peter and Campbell established Tabor House as a residence for recently returning priests and different exiles from Latin America. They took in struggling families, and participated in weekly human rights protests.
Finally, Just a few days before Fr. Peter died, he and Campbell received a CRISPAZ peace award at a special service in return for their three decades of social service in El Salvador.
Recalling Fr. Peter's in the days following his death, many commented on his personality and how he was as a person.
In a statement published by the National Catholic Reporter, Sr. Betty Campbell described Fr. Peter as "a prophet" who was "sharp, intelligent, and spoke the truth to the best of his ability."  She also remembered him as "a very humble person".
Former Carmelite Desmond Kelleher, who also worked with Fr. Peter, described him as "a very human guy," who also had "a great sense of humor."
Fr. Peter Hinde visited Mount Carmel in the spring of 2019, and was ion campus the morning of the annual Walkathon.  He spoke to the student body, and then accompanied them for a good portion of the walk.  Even at the age of 94, he was full of energy and spirit.
The Carmelites also were blessed to have this saintly man walk with them for over seven decades.
About the Writer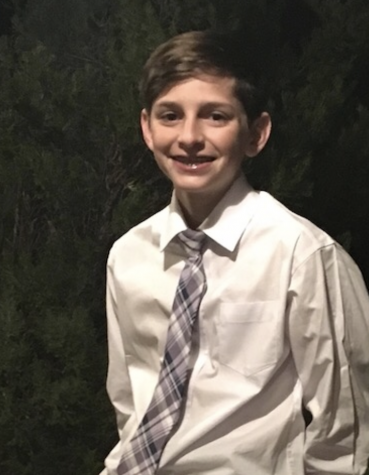 Patrick Hatzis, Staff writer
Patrick Hatzis is a 16-year-old junior at Mount Carmel High School. Hatzis was born in the West Loop, but now lives in the South Loop of Chicago. Hatzis...