Lights, Camera, Fashion!
Hang on for a minute...we're trying to find some more stories you might like.
On Sunday, April 7, the MC Mother's Club hosted its annual fashion show. This year's fashion show took place at Gaelic Park in Oak Forest, Illinois.  The theme was "Hollywood." MC staff and parents dressed as some of the most famous film actors characters of all time. From Marilyn Monroe to Darth Vader, the MC fashion show had it all!
This year, I was fortunate to be a part of the fashion show. As a senior, it is a very big deal. I was in two of the nine fashion runs. My first was prom run: MC seniors were paired with Caravan cheerleaders for a walk down the runway. The girls were dressed in beautiful prom dresses from That Girl Boutique, while the boys were in fancy tuxedos from Boss Tuxedos.
My second run was the mother/son run for the seniors whose mothers had served as officers or committee chairs for the Mother's Club.  This important honor is saved for the last run of the day. When each mom and senior walked across othe stage, the "Mistress of ceremonies," Cindy Panatoyovich, narrated their plans for college and the future. Then, as each couple started walking down the runway, the DJ played a short 30 second clip of a voice recording the seniors had made for their mother. In my voice recording, I talked about how grateful I am for my mother and I thanked her for everything she has done for me.
This year's fashion show was a great experience that let me have a fun day with my friends, and a very memorable day with my mother.
About the Writer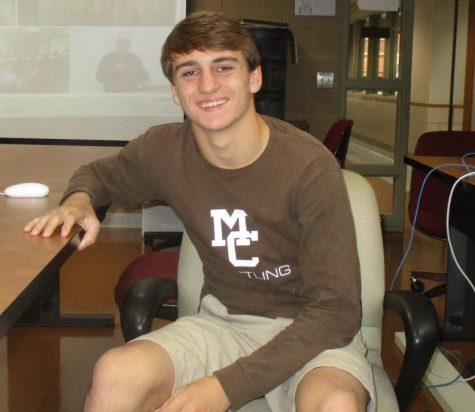 Miles Hoey, Staff Writer
Miles Hoey, a senior at Mount Carmel, is a varsity wrestler who lives on the South Side of Chicago in Beverly. Hoey would love to pursue his dreams of...