Woodlawn – the story starts at the 64th Street viaduct?
On May 30, 2014, MC students, parents and faculty volunteers led by Bob Keeley spent a morning scrapping and painting the 64th Street viaduct. They also cleaned the small space west and south of the viaduct by removing weeds, small trees and junk. Perhaps a seed was planted?
Since then the small green space has turned into a small park and the 64th Street viaduct includes a new mural. The next two viaducts south of the school have brand-new mosaic artworks.
Plans for an Obama library and a new golf course in Jackson Park have certainly brought attention to Woodlawn, but many of the quiet changes like the viaduct painting demonstrate a broad base of gradual neighborhood improvements.
A new, zero-energy model home for a planned 8-home development stands two blocks from MC at Marquette and Dorchester.
POAH (Preservation of Affordable Housing) has developed eight significant residential and commercial projects near Cottage Grove in Woodlawn just in the past five years. Residences are a mix of market rate and assisted rentals.
The University of Chicago has been involved in three new schools built on 63rd Street in the past two years. The university has rapidly expanded their own campus south from 60th Street with classroom buildings, residence halls. an art center and a planned 180-room hotel.
On October 7, 2015, the former St Clara/St. Gelasius Church at 64th and Woodlawn, now known as the Shrine of Christ the King, suffered significant fire damage. Rather than abandoning their considerable efforts over the prior 10 years to build a congregation and re-build their church, the parish joined with preservation advocates to form the Coalition to Save the Shrine. They report raising over $2 million of the $3 million phase 1 restoration goal. Masses are being held in the adjacent First Presbyterian Church.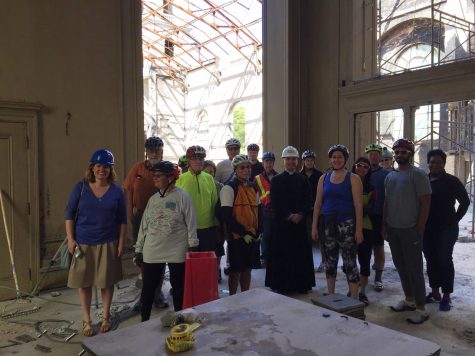 The Coalition to Save the Shrine joined with the Hyde Park Historical Society to promote a bike tour of Woodlawn on September 9th. Mount Carmel faculty volunteer George Vrechek led 25 interested local residents through Woodlawn to view improvements like those described as well as the sites of now demolished Woodlawn buildings. Sites closest to Mount Carmel included the 2,996-seat Tower Theatre, the Second Chicago Coliseum and Buffalo Bill's Wild West Show – all of which were located on the same site one block north of Mount Carmel. East of MC was the 63rd Street elevated terminal, the entrance to the 1893 Columbian Exposition and even a 300-room hotel on the current faculty parking lot.
Years ago Woodlawn had 80,000 residents, 350 daily trains, 14 theatres, 20 hotels, 3 Catholic parishes and 148 liquor establishments. Those numbers will not be likely be approached again, but there are definite signs that painting the viaduct was time well spent.