Schererville offers a quiet alternative
I have lived in Schererville, Indiana, since March of 2005. The town has a lot to offer, except at night, when there is little to do besides going to the diner or to Dunkin. However, since Schererville is 50 minutes away from the city of Chicago, I guess one should expect it to be a quieter town.
While it lacks the bright lights and 24-hour activity of the city, there are things in Schererville that Chicago doesn't have. In addition to the strip malls and restaurants, that you'll find in any small town, there also are a lot of parks and bike trails to use during the warm season, and you don't have to go far to find yourself out in the cornfields.
Unlike Chicago, there is no public transportation in Schererville. You have to get around by car, bike or foot. However, if you go to the Crossroads of America, you will find a lot of restaurants and shops.
Schererville uses the motto "Crossroads of the Nation" to describe the intersection of U.S. Route 30 and U.S. Route 41 in the center of town. According to Wikipedia, "Much of US 30 was originally the Lincoln Highway, one of the first cross country highways in America," while US 41 was once "one of the most traveled roads from the Midwestern United States to the Southern United States."
The "Crossroads" is just about the only "tourist attraction" in the town, and in my opinion, it's kind of boring to watch a bunch of cars drive by. The other downside is that the traffic lights at "the Crossroads" take longer to change.
But while nothing much happens, the flip side is that Schererville is very safe. It is rare to hear about crime, but when it does happen everyone talks about it. People in the community also are close, and there are over ten churches in town that support the sense of community.
You can find many restaurants in Schererville, including two of my favorites, Teibels and Round the Clock. Round the Clock, as the name suggests, is open 24/7 and is very affordable. You can go at 3 a.m. and get a whole meal for $10.
Speaking of affordability, Indiana's sales tax is only 7%, which means we get a steady stream of people coming over from Illinois to save money on merchandise and gasoline. I guess that's why in the crossroads area you can find a Dollar Tree, Walmart, Stracks, McDonald's, Dunkin, the  Crossroads Office building, and more.
If you continue down US-30 going east from Schererville, you will find nothing but cornfields and forests until you hit Hobart. If you go west on US-30, you will end up in Dyer. Go north on US-41, and you will end up in Highland; go south on US-41 and you will end up St. John.
If you are ever in Indiana don't forget about my town.
About the Contributor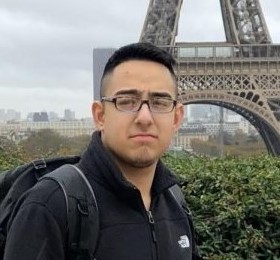 Angel Samperio, Staff writer
Angel Samperio, a 17-year old senior at Mount Carmel High School,  grew up in Lansing, Illinois, after coming to the US from Mexico in 2005. In 2006 he...