Who impressed scouts at the Mount Carmel Journalism Pro Day
On Monday, April 1, scouts from the major U.S. newspapers including editors, staff writers and editorial page contributors, descended on Chicago's Mount Carmel High School to see first-hand what journalism students had to offer on Pro Day. Seniors Matt Martinez, Kris Rokita and Miles Hoey were the main attractions, but juniors Marcos Cid, Trent Smith and Nick Gulotta turned some heads as well.
According to Chicago Tribune editor Sidd Finch, who was attending for the fifth straight year, "These kids are here today to show us what they have with the hope of landing a six figure salary at one of the major media outlets."
When asked what the editors would be looking for, Chicago Sun-Times editor Roy Hobbs commented, "We know these kids can all write, otherwise we wouldn't even be here. But we need to see what kind of shape they are in. We watch them run through the paces and take a look at them using realistic reporting experience. Our core business is running articles. Our writers have to be able to run with a story."
The Tribune's Finch agreed, "We have some columnists who have been with us for years like Mary Schmich, John Kass, Clarence Page and Rex Huppke, but they have lost a step or two. When a story breaks, we need to see who can get there quickly and flesh out the details. Again, we know the kids can write, otherwise they wouldn't be graduating from the Mount Carmel journalism program, but we need to check them for footspeed, athleticism and general tenacity. We have to see them run a 40-yard dash in clothes they would wear at work."
The editors watched the student journalists run 40 yards on Mount Carmel's Carey Field. Senior Matt Martinez was appropriately dressed, but took the liberty of removing his shoes. He ran the 40 in decent time, but felt he could have done a little better. Martinez stated, "I took the same approach that I do on a regular school day. I got here two hours before the workout and was well-prepared. I have run faster, but my time was OK. I was surprised that no one wanted to see a sample of my writing, but I would have been prepared for that had it come up."
Senior Miles Hoey was surprised that they weren't asked to do bench presses or vertical jumps and added, "I warmed up a bit in the gym, in case they wanted to see my vertical jump, but I guess all the editors want to see is footspeed. I ran the 40 twice and think I nailed it. I got all the way to end both times."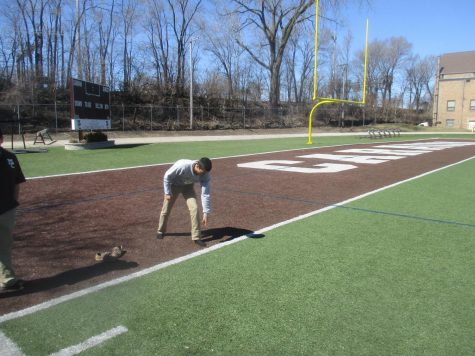 Kris Rokita took it all in stride, while there is no film of his sprint, there is a still photo which accurately tells the story. However, Rokita felt he was very fast and that he would be surprised if he wasn't drafted by one of the major papers. Cid, Smith and Gulotta didn't run the dashes but they did impress the editors with their abilities to multi-task. They were always on the move and seemed to be having a good time, one of the things that editors will really look for next year when the current juniors have their Pro Day.
Washington Post editor J.K. Rowling felt it was well worth the trip to see the Mount Carmel journalism students on their home field. "They all look like they can handle the interesting leads, accurate reporting and conformance to A.P. standards, but you just don't know how well they can run with a story until you see them in action, especially on April 1."