Gatorade vs Powerade, let's settle this
Hang on for a minute...we're trying to find some more stories you might like.
There have been many arguments over the years about which sport drink is better, Gatorade or Powerade. I see many tweets on twitter about Gatorade and Powerade. I have never seen Powerade win against Gatorade. I posted a poll on twitter on which was better Gatorade or Powerade. Gatorade had 75% of the votes and Powerade had 25%. But why is Gatorade the better drink?
According to junior Ty Morgan, "Powerade tastes better as a drink, and Gatorade taste too much like sugar." Senior Robert Adrow added since Gatorade has more flavors, it is the better drink, but he does like Powerade too. Senior David Gutierrez thought that Gatorade is better because it is more popular.
I completely agree with them. Powerade does taste better as a drink, but I do not mind drinking Gatorade, if I have to. Adrow thought that Gatorade has more flavors, which it does.
Gatorade has many different flavors in many different drinks of their brand. They have six different categories of flavor: Original Thirst Quencher, Flow, Fierce, Frost, G2 and Zero. The Original Thirst Quencher is just your classic Gatorade. Gatorade Flow has a bold flavor with a smooth finish. Fierce has a bold and intense flavor. Frost has a light but crisp flavor. G2 has half the sugars but all the electrolytes. Zero has zero sugar but all the electrolytes.
Powerade does not have all of these different categories for their drink; all they have is the original with fourteen different flavors. Powerade Zero has five flavors.
Gutierrez had an interesting response, he said that he likes Gatorade more because it is more popular. Do people like Gatorade better because the drink is more popular, and they just want to hang with the crowd?
About the Writer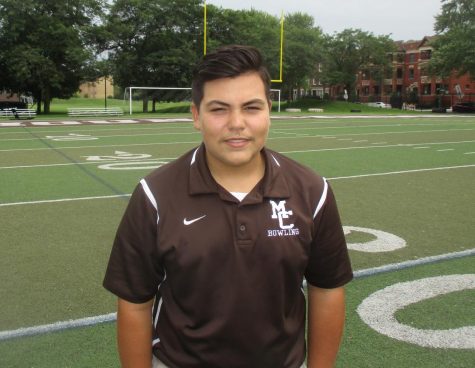 Matthew Martinez, Staff Writer
Matthew Martinez, born in Chicago, goes to Mount Carmel High School on the South Side of Chicago. He went to grade school at St. John the Baptist in Whiting,...