Tennis team deserves better home court
Hang on for a minute...we're trying to find some more stories you might like.
The tennis courts in Jackson Park, where MC plays its home matches, are in horrible condition. There are nine courts and only three or four are even playable.
Even on one of the "playable" courts, there are cracks so deep in the playing surface that when the ball hits them, it bounces in a different direction. During the team's last match against Brother Rice, the ball hit the cracks many times, and players on both teams lost many points because of it.
Two of the nets on the playable courts at Jackson Park are not even set up properly. Instead of a taut horizontal line, there is a two inch dip in the middle of the nets which creates a slight "U" shape.  MC players are so used to practicing and playing with these nets that when we face other teams at their courts or in the CCL tournament, our shots always seem to skim the top of the net.
It is very frustrating, because when MC visits other schools like Providence, Brother Rice, and Montini, which have tennis courts on campus, they all are kept in great condition.
Typically, playing at "home" should be an advantage.  Ironically, although we play only a few away games this year, we look forward to playing on the other team's courts. We know they will be much better than ours.
During the first couple of weeks of the season, MC practiced at XS Tennis, indoor tennis courts that are very nice. Even though it would not benefit them directly, this year's seniors have suggested to Coach Rodgers that in the future, the team should schedule its home matches there where it is nicer than our courts at Jackson Park.
Hopefully in the future the Mount Carmel tennis team will have the opportunity to practice and play on better tennis courts.
About the Writer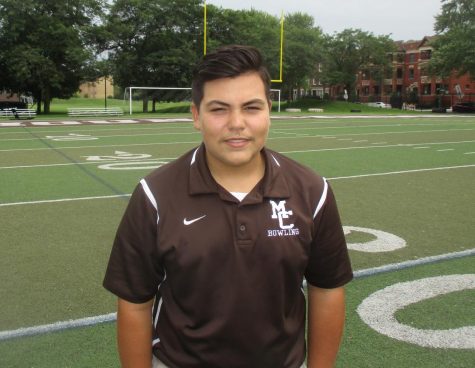 Matthew Martinez, Staff Writer
Matthew Martinez, born in Chicago, goes to Mount Carmel High School on the South Side of Chicago. He went to grade school at St. John the Baptist in Whiting,...