Is the Student Center next for renovation?
For the last several years, Mount Carmel has been in the process of undergoing a major renovation. The main building, which was constructed in 1924, is being completely rebuilt floor by floor. The classroom spaces on the second and third floor were completed over the last three summers, and the first floor renovation is due to be completed by early October.
With the primary classroom spaces finished, the building will feature new technology and more flexible teaching spaces, but retain the nostalgic look on the outside.
Looking to the future, there are additional areas that need attention. The basement, which currently includes temporary classrooms, locker rooms and the senior lockers, is the one part of the 1924 building that has not been addressed.
The Student Center, which was added in the 1950s, also is in need of renovation. Originally constructed and used as a cafeteria until the student commons was opened in 2005, the Student Center functioned as a practice place for the wrestling team and a venue for school plays in recent years. According to Mr. John Byrne, Mount Carmel Vice President for Operations, the master plan is to make the Student Center a "multi-purpose performing arts center."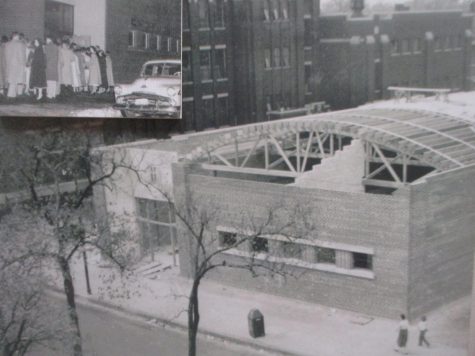 However, the renovation of the Student Center is not likely to begin for roughly 3-4 years, as other minor projects including an elevator for the main building will be addressed first.
The master plan is still flexible and can change at anytime. Many students and faculty have different opinions on what to do with the building. Some say they should tear it down completely, and others say that they should still keep the building and just renovate it.
The funding is all being done through the Advancement Office. The Advancement Office works on the fundraisers, donations and pledges for the projects. They have played a big part in the projects and without the Advancement Office, we wouldn't be able to renovate.