Who are the men behind those five retired jerseys?
Hanging in the Cacciatore Athletic Center are five jerseys. These jerseys represent five men who left it all on the court for Mount Carmel, and five men who many don't know about.
Norbert Lewinski – The First of the Five 
Norbert Lewinski's jersey (#31) is the oldest of the five, as he graduated in 1949.
The 6-foot 6-inch forward attended the University of Notre Dame from 1949-1953, where he averaged 11 points per game.
Lewinski was drafted in the sixth round in the 1953 NBA Draft by the Fort Wayne Zollner Pistons with the 49th overall pick in the draft. Although Lewinski didn't have the opportunity to play in an NBA game, Lewinski made a great impact on Mount Carmel with his amazing play.
Lewinski passed away on November 29, 2014, but his memory will last forever in the jersey hanging in the gym.
Jack Stephens – Fighting Irish
Jack Stephens (#53), another Notre Dame player who played alongside Norbert Lewinski, graduated from Mount Carmel in 1951.
During his time at Notre Dame from 1951-1955, Stephens increased his scoring from 5.3 points per game in his first year to 20.9 points per game in his final year.
Stephens was drafted by the Saint Louis Hawks in the second round with the first pick (7th overall) in the 1955 NBA Draft.
Although Stephens only played one season in the NBA for the Hawks, he averaged 10 points, 5 rebounds, and 3 assists per game in the 1955-1956 season.
After his playing days, Stephens served as President of the University of Notre Dame Monogram Club from 1993-1994, and on November 4th, 2004, Stephens was named to the Irish All-Century Team.
Stephens passed away on August 31, 2011, but his legacy will live on both at Mount Carmel and at Notre Dame.
Greg Carney – "One of the best…"
Greg Carney (#22) was a 5-foot 8-inch guard, and is the middle-man of these jerseys.
A graduate of the 1966 class, Carney attended Wichita State, where he played three years (1967-1970) while averaging 20 points, 2 assists, and 4 rebounds.
According to Wichita State University's Alumni Magazine, Carney was a "Shocker Sports Hall-of-Famer and one of the best guards to ever play at WSU."
Lloyd Walton – Player and counselor
Lloyd Walton (#23), graduate of the class of 1971, was a 6-foot guard who attended Marquette from 1973-1976.
During his time at Marquette, Walton averaged 11 points, 5 assists, and 2 rebounds. He played under the legendary Marquette coach Al McGuire and was named a 2nd Team All-American player.
Walton was drafted with the 6th pick in the 3rd round (40th overall) in the 1976 NBA Draft by the Milwaukee Bucks.
He played for the Bucks for four seasons from 1976-1980, and played for the Kansas City Kings for 1 year in the 1980-1981 season. For his career, Walton averaged 4 points, 3 assists, and 1 rebound.
According to Wikipedia, after his retirement, "Walton would serve as an Assistant Coach at Marquette University, a Regional Collegiate Scout for the New York Knicks, an Assistant Coach of the Continental League, and Assistant Coach of the NBA Pre-Draft. He also had many positions at the public sector including Bureau Chief for the Illinois Department of Human Services and Executive Director of both The James Jordan Boys & Girls Club & Family Life Center and the Washington Park YMCA….Lloyd is currently a Career Counselor for the NBA."
Antoine Walker – NBA All-Star
The most recent player, and the most recognized of the five for current students is Antoine Walker's jersey with the number 23.
A graduate of the '94 class, Walker was a phenomenal basketball player who played at Mount Carmel alongside another big name,  former NFL quarterback Donovan McNabb, a two-sport athlete at MC.
Walker attended the University of Kentucky from 1994 to 1996, won a NCAA Championship in 1996, was named the SEC Tournament MVP, and was selected to the All-SEC First, All-SEC Tournament and All NCAA Regional Teams.
During his time at Kentucky, Walker averaged 11.7 points, 2 assists, and 6 rebounds per game. This earned him the honor of becoming the 6th overall pick in the 1996 NBA Draft, being drafted by the Boston Celtics.
In his first year, Walker was a part of the All-Rookie Team, and in just his second year, became an NBA All-Star, averaging 22 points, 3 assists, 10 rebounds, and 2 steals a game.
Walker was also named to the NBA All-Star team in both the 2001-2002, and the 2002-2003 seasons, averaging similar numbers as his first All-Star appearance.
From 2004-2005, Walker played for four different NBA teams, but ended up with the Miami Heat in the 2005-2006 season. It was during this time with the Heat where Walker won an NBA Championship.
Walker retired after the 2008-2009 NBA season with the Minnesota Timberwolves.
For his career, Walker averaged numbers of 17 points, 3 assists, 7 rebounds, and 1 steal per game.
He is now a basketball analyst on 120 Sports, and according to an article by Hoops Hype, is now "helping athletes to avoid financial mistakes he made."
About the Contributor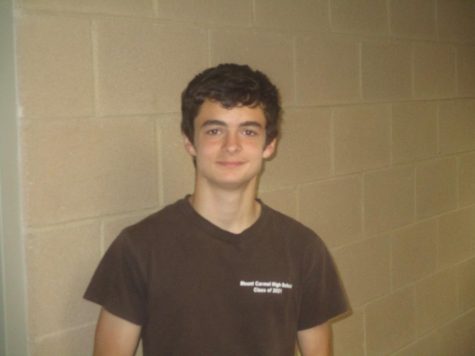 Joseph Williams-Tubay, Staff writer
Joseph Williams-Tubay was born in Chicago, Illinois, and attended Saint Benedict Preparatory School. He now attends Mount Carmel High School as a junior....