In signing, student-athletes look back with gratitude; ahead with excitement
Hang on for a minute...we're trying to find some more stories you might like.
On Wednesday, February 6, 2019, nine Mount Carmel seniors signed letters of intent to continue their respective athletic careers at the college level.
The signing event opened with MC Athletic Director Dan Lacount explaining the program to the student-athletes and assembled guests. With the event being live-streamed, Lacount reminded the seniors to sit up and be proud as they were representing Mount Carmel, themselves, their family and the college that they will attend.
Lacount then introduced the principal, Mr. John Haggerty, who welcomed the guests and briefly spoke about a familiar characteristic of great athletes, that they have the capacity to "stay in the moment."  However, on this occasion, Haggerty reminded the group of the importance of remembering with gratitude all the other moments that led to this one and of looking ahead with excitement to the moments that will follow.
After prayer, Lacount introduced Mount Carmel President Ned Hughes, who complimented the signees for how committed they were to their academic success as well as to their sports.  Hughes pointed out that the level of commitment needed to wake up early to go to practice is proof that they are men of character.
After Hughes spoke, Lacount asked the students to sign the letters of intent, while inviting parents and guests to "take as many picture as you can."
After the signing was completed, the aspiring college athletes participated in a brief news conference with reporters from the Caravan Broadcast Network (CBN) and The Caravan on-line newspaper (mccaravan.org).
To start things off, Patrick Szczesniak was asked about getting the chance to play football for Army at West Point.
"It is a great opportunity and I am excited," Szczesniak stated. He added that he was surprised when he learned that Army was offering him a spot on its team, because he had very little communication with them. 
Radomir Premovic, Davion Brooks, and Eddie McGee, who all signed with Northern Michigan, were excited that they will get to play on the same team again for another four years. 
Beyond that continuing opportunity, what appealed to Premovic about Northern Michigan was the beauty of the country.
McGee agreed, and noted that he sensed Northern Michigan was the spot for him the first time he visited.
Northern Michigan also was McGee's first offer, which came in his junior year, so the decision was clear. He noted, "I got comfortable with the facilities and the people around there; also I have two of my friends with me."
David Lopez admitted that he never really expected his football career to continue beyond high school. After all the hard work he did, getting the chance to play for Concordia University in Wisconsin "is amazing. "
Matt Lenti, who literally grew up around Mount Carmel, "always dreamed about coming here."  He's appreciative of his experience and knows that the credit for his success has to be shared.  "I worked hard, and the coaches did the rest; they are the only reason why I'm here."
Kyle Davis also reflected on the impact Mount Carmel had on his development. 
"Mount Carmel made me a better student first; they are always on me about my grades. Western Michigan was on my side all the time, since junior year, I feel that Mount Carmel showed me the way."
Kyle also observed that playing against tough competition in the CCL prepared him for facing bigger teams at Western Michigan. 
"Some schools don't have a league like Chicago Catholic League.  Going into the MAC conference, there are a lot of big kids, so you've got to be prepared." 
Marcel Mendiola is headed to Cincinnati, and admitted, "It means a lot, especially after the all the struggle, stuff that we have been through, dealing with school and outside of school."
One senior who signed for a sport other than football was Abdel Raoul, who will be playing golf at Prairie View A&M in Texas. Like Mendiola, Raoul viewed signing day as proof that "all the hard work I have been putting in, finally paid off."
He is excited to keep his career going in college, and pointed out that "it means a lot" to be going to an historically black university, where "the coach and teammates really made me feel at home."
One of Raoul's best memories from his Mount Carmel career didn't directly involve the game he loves, but a quiet moment shared with Coach Anthony Massino on their way down to the state tournament this fall.  Those few hours of simply talking and listening to music were special.
Most of the football players shared the same great memory: beating East St. Louis twice, in both junior and senior year.
As these men continue their athletic careers for four more years, there will be plenty more memories to be made.
About the Writer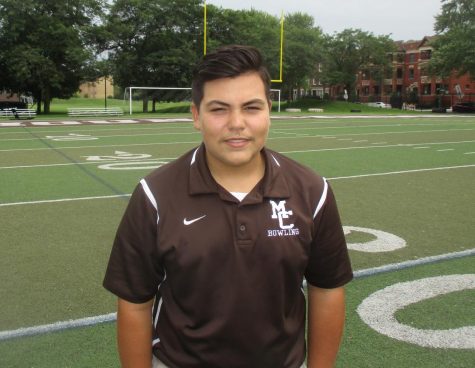 Matthew Martinez, Staff Writer
Matthew Martinez, born in Chicago, goes to Mount Carmel High School on the South Side of Chicago. He went to grade school at St. John the Baptist in Whiting,...