Fight Night raises money, requires courage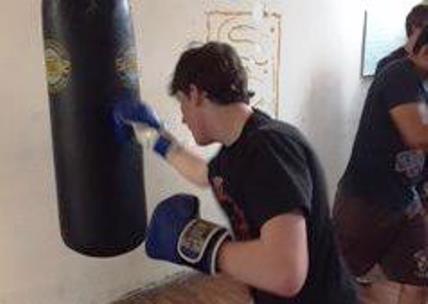 Advertisement
Hang on for a minute...we're trying to find some more stories you might like.
This year's Fight Night takes place on April 29 at 6 p.m. According to organizers, Fight Night has been held at Mount Carmel for at least 4 years.  Based on attendance and sponsorships, interest in the event remains strong, according to Fight Night Committee Member Paul Rowan. This year's main sponsor in support of the major fundraiser is Consolidated Construction.
There will be 13 bouts, beginning with the lowest weight classes.  Typically, there is at least one "highlight" fight between particularly proficient fighters. Tickets cost $10 for adults, $5 for students. Raffle tickets also are available for cost $100, with just 750 tickets to be sold.
In past decades, the Fight Night matches were determined through a lengthy intramural boxing tournament held during lunch periods in the Alumni Gym.  Veteran faculty recall that boxers would come back to class sweaty and bruised, while students who attended the fights would be riled up, so eventually the preliminary bouts were moved to after school.
Once that happened, the number of boxers able to participate started to decline, and over time, the preliminary intramural tournament disappeared.  Today, interested students are required to participate in training sessions, after which they are matched by weight class to determine the bouts for Fight Night. Most boxers train every Tuesday and Thursday with Coach Mike Davis at MC, but some boxers go to local gyms to prepare.  Regardless of their preparation, Fight Night takes courage.
"It takes a lot for these boxers to step into the ring with all of their friends watching them," acknowledged Coach Davis.
Each match consists of three rounds, and each round is one minute long. The safety of the boxers is of utmost importance. Boxers are required to wear protective equipment, including head gear and 16-ounce gloves. In addition, the officials can and will call the fight at any point if they deem it is a mismatch. The event is not about who can inflict the most "hurt" on his opponent, but rather for the boxers to show off the skills they have been invested a lot of time into developing.
As a high school junior at Fenwick, Mr. George Vrechek, one of the faculty moderators for mccaravan, fought in the last bout of his school's last intramural boxing tournament back in 1962. He observes, "Boxing has come along way since those days," when students were chosen to box. "We did not volunteer."  He also recalls, "We fought with no head gear, no mouth piece and just gloves." As a result, it's probably no surprise that, "It was a concussion that stopped boxing at Fenwick."
Given the increased awareness of sports-related concussions, the emphasis on training and proper equipment is critical.  One of this year's boxers pointed out, "I am not worried about getting a concussion with the headgear, mouthpiece and gloves, along with training on how to slip punches."
Junior Jack Bracewell, one of this year's boxers, is working hard to prepare and is "excited for my fight."  But even with all of the protection, boxing is a violent sport in which concussions can happen. It is imperative for the boxers to be safe and always protect themselves.