South Side YMCA aims to help all generations
Hang on for a minute...we're trying to find some more stories you might like.
Just across the street from Mount Carmel's campus, the South Side YMCA offers people of all ages the opportunity to participate in a variety of athletic and academic activities.  Focusing on the goals of youth development, healthy living, and social responsibility, the "Y" has served the Woodlawn, Hyde Park, and surrounding areas for over three decades.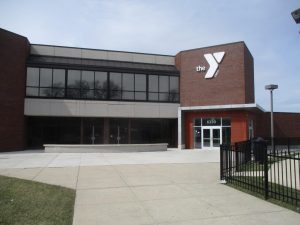 Located at 6330 S. Stony Island, the South Side "Y" features multiple athletic facilities, such as two swimming pools, a full length indoor basketball court, an outdoor basketball court, both indoor and outdoor tracks, and a weight room.
Along with the various recreational facilities available to adults all day, the "Y" offers numerous after-school and summer programs for children and teens.
After-school care is available for children as young as third grade, including transportation from various neighborhood  schools. Students are encouraged to complete their homework under the supervision of tutors, after which they can enjoy recreational activities.
In addition to the after-school program for grammar school children,  the "Y" offers high school students an opportunity to prepare for college life and career opportunities through the "Achiever's Program."  The program is offered as an elective for students during their school day at Richards High School and Perspectives Charter School.
Carlton Gill, coordinator of the Achiever's Program, noted that "There's a large gap between when school lets out and when parents get out of work."  He stated that the "Y" wants to help "alleviate some stress" for parents by providing students a safe environment after school.
Gill is excited about the program's recent success, and hopes to expand into more schools, including middle schools, in the future. He observed that "The drop-out rate among this age group is increasingly high, so it would be great to work with students (even) before high school."
Like many of the staff at the Y, Gill, who took over as the director of the Achiever's Program in November of 2015, sees his role as much more than just a job.  "I went into this work to help the future generations."
One of Gill's colleagues, Johnnie Cox, manages the front desk and coordinates many of activities the "Y" provides.  From that perspective, he has seen a lot of young adults come through the facility, and he notices the hardships that they live with. "Some of these kids are products of their environment, which may not be good. (This place) is a safe haven for children to be dropped off."
Like other institutions in the Woodlawn area, the South Side YMCA is excited about the prospects for the Obama Presidential Library, which will be located in Jackson Park just to the north.
Youth Director Stanley Wilkerson sees potential for future partnerships with the library.  "We are working with the Obama Foundation to see what we can do to work together."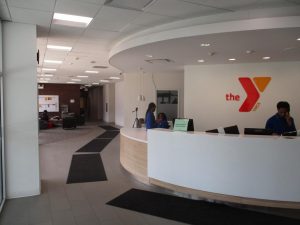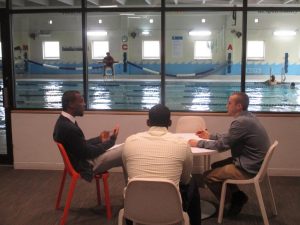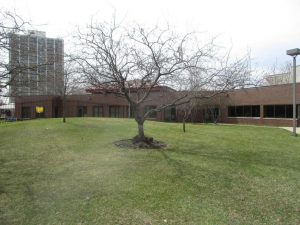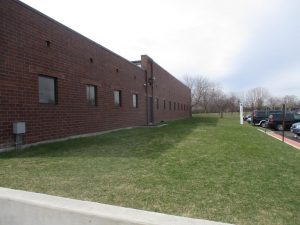 About the Writer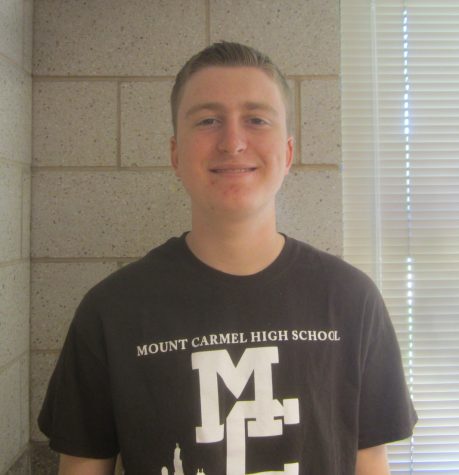 Conor Langs, Staff Editor
Conor Langs is a senior at Mount Carmel High School.  He resides in the western suburbs, where he graduated from Hinsdale Middle School in 2013.
Returning to The Caravan this year, Langs will serve as one of the staff editors.  Outside of Mount Carmel Journalism, he also writes for Mash Insider, a high school-driven newspaper published by the Chicago Tribune and read by schools across Chicagoland.
In addition to his work with print media, Langs is a returning member of the Caravan Broadcast Network, for which he will be the producer/social media correspondent.  And when he has time, Langs also participates in the school band, playing the saxophone.
A National Honors Society student who is enrolled in several AP classes for his senior year, Langs particularly enjoys taking history and English classes.  He loves to follow and write about various sports, and he plans to major in sports journalism in college.
In his free time, Langs volunteers at the Field Museum, at which he has earned nearly 400 total service hours. Langs is looking forward to the college application experience, especially to schools with outstanding journalism programs.